Laura Tims '14
Author
HarperCollins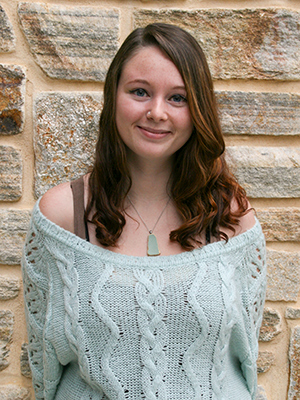 "I decided that I wanted to be a writer when I was pretty young. I never really had any backup plan," says Laura Tims, who now has a two-book contract with HarperCollins.
Her first novel, Please Don't Tell, was published in May 2016. Tims describes the young adult (YA) contemporary novel as being about "a girl who kills the boy who hurts her sister. But someone sees it happen and blackmails her."
Tims, who grew up in Freeport, Maine, was driven by something akin to fear to write the book while still a college student. After discarding a novel that she had worked on since high school, calling it an "unfixable hot mess," she pushed herself to adopt a new plan. One day in the summer before her junior year at Goucher, Tims went to a coffee shop and didn't leave until she had a fresh idea.
That fall, she juggled classwork and writing (with the consent of some very "tolerant" professors) to produce a first draft in October. She revised the book that November and sent out publisher query letters. She told herself, "If I don't sell a book at some point in the near future, I'm going to have nothing to do when I graduate. I'm probably going to freak out, and it will be terrible."
She ended up with six offers and had about 20 agents speed-reading the manuscript over the holidays. By the following January, Tims had an agent, and in May 2013, she sold her first book. "When it actually happened, it was less of a surprise and more of a relief," she says.
Tims devoured fantasy books as a child. At age 10, she had a piece of fanfiction published on the main page of Neopets, a virtual pets website. "I think fanfiction is how a lot of teenagers nowadays get into writing," she says. "It's an easy step to get into it because you can start with characters you already love." She admits that she wrote 900 pages based on the popular Pokémon television series.
The Internet has certainly helped Tims in her success. Not only did writing fanfiction boost her confidence, but she also received guidance from fellow writers. Her online critique partners and a summer internship at the Fine Print Literary Management Agency in New York City (funded by a Kratz Summer Fellowship) showed Tims the ropes for publisher query letters and gave her ideas about where to send them.
At the agency, she learned specifically about publishing trends and how to pitch a novel. "If you're going to get an agent to represent your book, it has to have a strong hook. It has to have something about it that makes it unique and that makes it stand out."
Tims learned by experience—her first, "failed" novel, she says, was none of these things. "It was that book that you spend a really long time writing, and then you sort of realize it's not very good."
She surprised herself with Please Don't Tell: "I always thought I was going to be a fantasy writer because that's what I liked to read the most. But the book that I ended up selling was a contemporary novel, and it turns out I'm a lot better at writing contemporary novels."
She's already got a couple of new projects in the works, a YA thriller and a YA contemporary novel, as well as a proposal for a book for middle-grade readers. Tims keeps busy with a blog, Literature & Laura, where she reviews books and offers writing advice. And, of course, she's always reading.