Jamila Thompson '01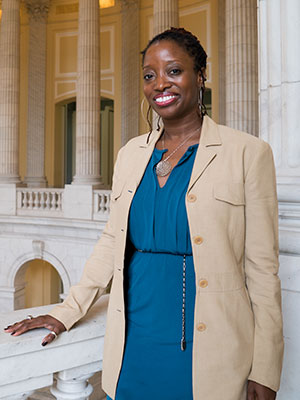 Jamila Thompson's mother was a mentor to a high school student in the Washington, DC, area. When she and other mentors took their prospective college students on a trip up to Baltimore to check out Goucher, Jamila rode along. She says, "I loved Goucher immediately because people were so friendly and the campus was so green."
As fate would have it, Jamila ended up enrolling at Goucher, but during her first year, she considered transferring to a school in a warmer climate.
Around that time, Jamila, an avid tennis player, competed in a charitable tennis event in Washington, DC, that also was attended by a lot of tennis greats and a few U.S. senators. One of the senators asked her where she went to school; she said Goucher, but added that she was thinking of switching to another school.
The senator's response was an emphatic "no, no, no!" He said he had had interns from Goucher and the other institution, and he encouraged her to stay right where she was.
"I followed the senator's advice, and I'm so glad I did," Jamila says.
At Goucher, she was an Essey Scholar who majored in history with minors in both international relations and French. She also played varsity tennis all four years. "I loved that I could be a student-athlete, Jamila says. "I love tennis, but didn't want to be beholden to the sport. I wanted to be able to do everything that I wanted to do."
She was a resident assistant in Alcock House, an active member of Umoja: The Black Student Union and the Women's International League for Peace and Freedom (WILPF), and a representative in the student government association and on the judicial board.
As a student-athlete, Jamila says she likes having structure and plans, and her natural proclivity is to "prepare, prepare, prepare." After she graduated, she started working as a volunteer coordinator and translator for various nonprofits, including an international startup that worked on film and culture of the African diaspora in the United States, England, Caribbean, and West Africa.
"I was very clear about wanting to work in the nonprofit sector, in international relations work or advocacy," she says. "I knew I didn't want to work in government."
But then September 11th happened, and "The country was heading to a very uncertain place," Jamila says.
Jamila got a call from a friend who worked for U.S. Rep. Barbara Lee (D-Calif.), the only member of Congress who voted against the authorization for the use of military force in Afghanistan. The friend asked Jamila to come in and help in the congresswoman's office.
"I decided that I would go and volunteer because Barbara Lee was the one person who was asking the question 'why?' about our involvement in the war and the roots of terrorism," she says. "The least I could do was to go and be helpful."
Jamila interned in Rep. Lee's office for about a month. Later she was called back to interview for a full-time position. "My grandmother always says if you want a job, go in and show them what you can do for free," Jamila quips.
She was hired as staff assistant in November 2001 intending to only work on Capitol Hill for a few months. All told, Jamila worked with Rep. Lee for over five years, and has been on the Hill for nearly 14 years.
Early on, Jamila primarily handled issues related to arts and veterans issues; then she added Cuba and Caribbean issues to her portfolio and even got to meet Fidel Castro and other world leaders over the years. When she was promoted to a full-fledged legislative assistant, she handled the Western Hemisphere subcommittee on which Rep. Lee served, as well as judiciary, trade, small business, veterans, technology, Social Security, pensions, and taxes.
A special highlight of her time with Congresswoman Lee was working to create a national Caribbean-American Heritage Month, and helping to coordinate efforts to secure more than $100 million for redevelopment efforts in the aftermath of Hurricane Ivan when it devastated much of the Caribbean. Jamila is Bahamian-American, and Rep. Lee was mentored by Congresswoman Shirley Chisholm of Guyanese and Barbadian descent.
As a history major, Jamila was extremely interested to learn that U.S. Rep. John Lewis (D-Ga.) was looking for a trade and appropriations budget staff person. When she was an undergraduate student of Professor Taylor Branch, she met Diane Nash and studied Rep. Lewis who has been dubbed one of the "Big Six leaders of the Civil Rights Movement" and has been at the vanguard of progressive social movements and the human rights struggle in the United States since the early 1960s.
Jamila got the job and started working with him in January 2007 as a senior policy advisor. Though she says, "There's nothing even close to a normal day," her primary duties included drafting and steering bills, amendments, and policy proposals throughout the legislative processes and overseeing the annual appropriations and budget strategies and funding priorities. Over the years, her legislative duties expanded to issues relating to trade, foreign affairs, human rights, national security, homeland security, poverty, transportation, labor, commerce, and judiciary policy.
In December 2012, she was promoted to legislative director and is now responsible for managing and developing Congressman Lewis' legislative agenda and staff in addition to continuing to advise on a broad domestic and foreign policy portfolio.
Jamila has been recognized as a Young Woman of Achievement by the Women's Information Network, and she was appointed to serve on the Mayor's Advisory Commission on Caribbean Affairs in Washington, DC, and as a senior fellow at the Stennis Center for Public Service. She also recently was named as one of the first recipients of the Goucher Distinguished Alumnae and Alumni Awards.
Although Jamila says she didn't intend to work in government, she has been able to participate in bipartisan, bicameral legislation that has made a difference for constituents across the United States and for disadvantaged and disenfranchised people around the world. She says she is grateful she has been able to "maximize every opportunity," just as she was able "to connect the dots between everything that I like and do it all" while she was at Goucher.
When reflecting on the path her life has taken so far, she says, "It's so ironic it was a senator who encouraged me to stay at Goucher when I was thinking of transferring, and here I ended up working for Congress!"