Jamila Thompson '01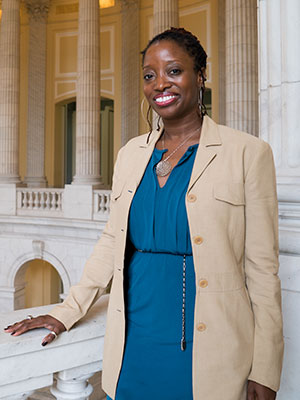 Despite nearly 20 years working in Capitol Hill, when Jamila Thompson graduated from Goucher College, governmental work was the furthest thing from her mind.
"I was very clear about wanting to work in the nonprofit sector, in international relations work or advocacy," she says. "I knew I didn't want to work in government."
She started her career working as a volunteer coordinator and translator for nonprofits, including an international startup that worked on the film and culture of the African diaspora in the United States, England, Caribbean, and West Africa.
But following the September 11th attacks, Jamila got a call from a friend who worked for U.S. Rep. Barbara Lee (D-Calif.), the only member of Congress who voted against the authorization for the use of military force in Afghanistan. The friend asked Jamila to come in and help in the congresswoman's office.
"I decided that I would go and volunteer because Barbara Lee was the one person who was asking the question 'why?' about our involvement in the war and the roots of terrorism," she says. "The least I could do was to go and be helpful."
She was hired as staff assistant in November 2001 intending to only work on Capitol Hill for a few months. All told, Jamila worked with Rep. Lee for over five years, and has been on the Hill ever since.
Early on, Jamila primarily handled issues related to arts and veterans issues; then she added Cuba and Caribbean issues to her portfolio and even got to meet Fidel Castro and other world leaders over the years. When she was promoted to a full-fledged legislative assistant, she handled the Western Hemisphere subcommittee on which Rep. Lee served, as well as judiciary, trade, small business, veterans, technology, Social Security, pensions, and taxes.
Following her work with Rep. Lee, Jamila took a position in the staff of U.S. Rep. John Lewis (D-Ga.). As a history major, Jamila was thrilled to work with Rep. Lewis, who has been considered one of the "Big Six leaders of the Civil Rights Movement" and was at the vanguard of progressive social movements and the human rights struggle in the United States since the early 1960s. Jamila worked her way up Rep. Lewis' staff, serving as a senior policy advisor, legislative director, and eventually being promoted to deputy chief of staff.
Today, Jamila Thompson serves as senior advisor to the U.S. Trade Representative, an executive office of the president responsible for developing and coordinating U.S. international trade.