Billy Daly '16
Economics and Environmental Studies double major
First Job: Baltimore Corps
Billy Daly is the director of data, technology, and evaluation at Baltimore Corps, which connects talent to opportunity by placing Fellows in high-impact roles at some of the most visionary nonprofits, social enterprises, and government agencies across Baltimore.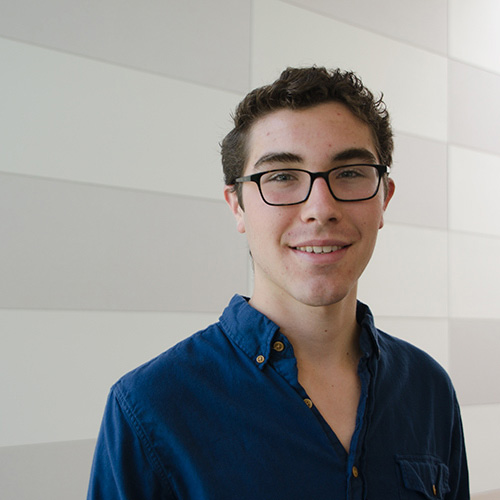 How Goucher got him to this point. How didn't Goucher help me get to this point? My first major exposure to data analysis came in the form of summer research with my adviser, Gina Shamshak, and projects in my econometrics class. I was introduced to the person who ultimately got me the position at Baltimore Corps by an admissions counselor. The position started out as an internship, which was greatly supported by our Career Development Office. I have no clue where I'd be if I didn't come to Goucher or if I hadn't stumbled upon all of these amazing opportunities since I've been here.
What he's learned. There are obviously the hard skills that I mentioned above—data analysis, database management, research, etc.—but more importantly I feel like I've learned how to learn here. While my experiences at Goucher did uniquely prepare me for this role, there is no amount of schooling that I could have ever received that would teach me all the skills I needed to know stepping into that position. Fortunately, Goucher didn't just offer me content, it taught me how to find it myself.
The Goucher mentality. What I loved about Goucher is how it is open to and supportive of anyone with an idea and the commitment to follow through with it. It is so rare to find yourself in a community that is constantly encouraging you to challenge the status quo, and moreover is willing to provide you with the resources and the guidance to do so. Goucher is always looking for ways to improve itself and that mentality is just as present among the staff, faculty, and administration as it is among the student body.
Parting words. Try everything, fail most of it, quit the rest, and then find that one thing (or two...or three) that really makes your heart pound and gets your adrenaline pumping. College is all about exploring, and while it might feel at times like you have zero margin for error—whether it be with a club, or a class, or a sport—I can assure you that your next four years are all about errors. At first, how to make them faster, then eventually how to make them smarter. The only mistake you could possibly make is to try not to make any at all.