Alex Ebstein '07
Studio Art Major
Goucher's director of exhibitions and curator
Alex Ebstein '07 could have signed a three-year contract with Condé Nast by age 24, maybe even scored a window-lined office by age 30.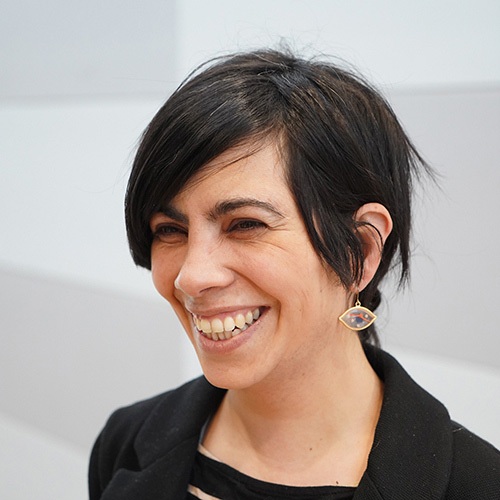 Much to her parents' dismay and frantic worrying, Ebstein turned down the contract. She knows this was the crazy choice, even though she has become a successful artist, a curator for a Baltimore gallery, and Goucher's director of exhibitions and curator. Ebstein maintains Goucher's 3,000-piece art collection, creates exhibits in the Goucher Art Galleries, and writes grants for the money to pull it all off. If you ask Ebstein what her job looks like on an average day, the list of tasks is twice as long as her sub-five-foot frame, yet she packs a kick not unlike the cup of coffee she clutches in one hand.
Ebstein is used to being Elastigirl; as a studio art major, she was already stretching herself in several directions, but in a good way. "Goucher was the place where I learned that your interests and your goals can take you anywhere," she says.
As a student, she designed an arts magazine, The Goucher Review, which she published four times a year with help from Goucher's Communications Office. Ebstein used the extensive layout and design samples for her portfolio, along with her own artwork. The combination, plus her superhero-like mindset, is what helped get her that first New York internship.
At the time, she thought she wanted to go into art news and publishing, but once there, she needed to redirect. "You get into the grind of someone else's industry and lose yourself. I wanted to have a studio practice; I wanted to understand what it was I wanted to make," she says.
She and her partner, who is also an artist, converted the front of their downtown Baltimore warehouse apartment into a gallery—Nudashank—and lived in the back; she devoted much of her time to creating art and promoting the work of others by being one of the few to use social media (at the time) to garner attention for Nudashank. The result was recognition from New York Magazine, Condé Nast Traveler, The L Magazine, and other niche art publications. "No other gallery from Baltimore was really doing that," Ebstein says, and it made her realize she can change what the art world looks like. "I can start something small that reaches out, and it made me feel like I could approach anything." After letting Nudashank recede, Ebstein and her partner now operate the downtown gallery Resort and work in the above-floor studio space.
Once Ebstein understood her role as an artist, she earned her master's in fine arts at Towson University, where teaching and working in a college gallery gave her the leverage to do what she does now—her dream job. "This is a job I had my eye on forever," she adds. As a student, Ebstein admired the work of Goucher's curator, now her predecessor, which is how she learned that the art world is accessible. Her goal is to do the same for students by creating exhibits that are engaging and impactful.
"Art is something that allows me to travel and make connections anywhere. It's a universal language—anywhere I go, I can understand or interact with another artist about their work and feel at home," Ebstein says. "That made me feel very global at a time when I was young and trying to figure out what the world looked like. Art opened doors no matter where I went."