February 24, 2020
Spotlight Series: Quodesia Johnson, M.A.A.A. '21
Quodesia Johnson, M.A.A.A. '21, connects people, communities, and lives through the arts.
Jewell Robinson, Goucher's first African American student, paved the way for Black students to receive an arts education at Goucher. To honor her legacy, the Welch Center will feature students in the M.A. in Arts Administration Program who are applying their education to careers in the arts.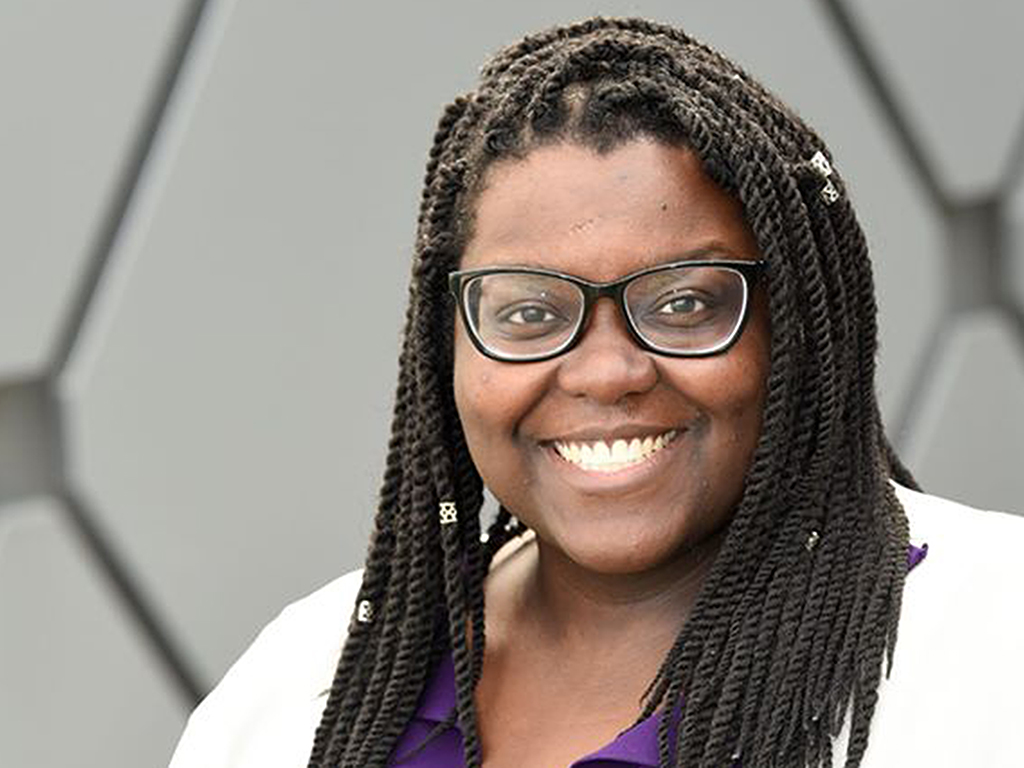 Today's feature is:
Quodesia Johnson, M.A.A.A. '21
Education and company culture manager at the Dallas Opera
What excites you most about your job/field of work?
I am most excited about the ability to connect people, communities, and lives through the arts. My day-to-day activities include, but are not limited to, creating curriculum, speaking at career days, facilitating employee workshops, leading summer workshops for students, and providing educational materials to company employees so that everyone has the tools necessary to commit to achieving equity in their own way.
In this sense, my job as the company culture manager is to ensure the organization considers what voices and experiences are missing or being ignored so we can move beyond simple acknowledgement to create ways to correct such inequities. The road ahead is challenging, but we are working to make our company and opera a more welcoming, authentic, and relevant artform with the help of our communities.
Who inspired you to pursue a career in the arts? If so, who? How did they inspire you?
My parents, professors at my undergraduate alma mater, and individuals as part of the Black Dance Theatre and Dallas Black Dance Academy have inspired me in so many ways.
My parents have always been supportive of my goals and love of the arts. As artists and arts lovers in their own right, they helped provide an example of the importance of art in my life. I am inspired to continue in my work and help remove barriers so my parents, and others like them from many different cultures, know that the arts are for everyone.
When I was a student at Prairie View A&M University, I was surrounded by professors with a wealth of wisdom, resilience, and undeniable. My professors helped nurture my desire to be the person to help "make it happen" in the arts by providing opportunities for me to work with administrators, fellow artists, and audiences. This often came in the form of assisting with scheduling and coordinating PVAMU Concert Chorale and PV Singers engagements, brainstorming ways to view a situation differently and apply new tactics, and learning to truly dedicate my time and actions toward becoming a better scholar and artists. They all continue to serve as examples of brilliant artists and administrators of African descent, further proving that our full presence in the field is long overdue.
Ann Williams, founder of Dallas Black Dance Theatre and Dallas Black Dance Academy, and Zenetta Drew, executive director of Dallas Black Dance Theatre, both took me under their powerful wings as an intern while I was earning my undergraduate degree. Mrs. Williams defied the odds and pushed back against systems of oppression to create an international organization dedicated to bridging cultures and reaching diverse communities! They are both driven by their desire to create experiences for others. They, along with the staff, are living, breathing, and powerful examples of the value one can bring to the arts.
What do you like most about the M.A. in Arts Administration Program? If you are a graduate, what did you like most?
I appreciate the consideration the program exhibits for working professionals. The online format coupled with face-to-face interaction is perfect for my travels and busy schedule. I also appreciate that the faculty members are experts and lifelong learners who are open to honoring the expertise of the students as colleagues and fellow arts administrators. Classes and assignments become a melding of minds and varying levels of experience as we all work together to better our field.
What advice would you give to persons of African descent who want to have a career in arts administration?
Command it! Rule it! Know that this field is for you—never doubt that! Know that you stand upon the work of those who came before you as you create a place for many more to stand beside you and to follow you. Defy the odds.
What is the most important thing you've learned in your program?
Do what matters.
Is there a member of your cohort that has impacted you in a positive way? If so, who? How have they impacted you?
There is no one person in particular. I appreciate the opportunity to take this journey with the members of my cohort. Each person is approaching this degree and this field from different lived experiences. There is a richness in learning what motivates others and experiencing achievements together.
If you had a chance to say one thing to Jewell Robinson, Goucher's first African American student who later pursued a career in the arts, what would it be and why?
Thank you for your strength. Thank you for your example. Thank you for working to illuminate the path so that we can carry the mantle together. Our field, the arts, and the world are all the better for it.