August 27, 2020
Goucher Welcomes Juan Hernandez as New Associate Dean of Students
Juan Hernandez joins Goucher College as associate dean of students for diversity, equity, and inclusion and Title IX.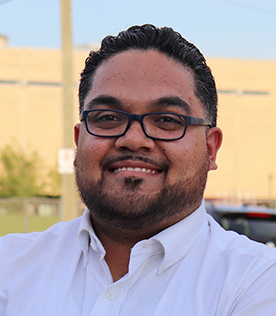 Goucher College is pleased to announce that Juan Hernandez will join the Goucher community as the new associate dean of students for diversity, equity, and inclusion and Title IX, starting September 7, 2020. Hernandez was selected after an extensive nationwide search. He will report directly to the dean of students, and he will oversee the Center for Race, Equity, and Identity (CREI) and the Office of Title IX.
Hernandez is enthusiastic about making an impact at Goucher: "I am both excited and honored for the opportunity to join Goucher College. I am impressed with how welcoming and passionate the community is. I am eager to begin working collaboratively with the Goucher community to create a shared vision and roadmap that advances diversity, equity, and inclusion, and prioritizes mutual trust and respect for all."
Currently, Hernandez serves as the director of the Myatt Center for Diversity and Inclusion at the University of New Haven. In this role, he advocates for underrepresented and underserved students, works to educate the campus community on issues of identity, diversity, and inclusion, and facilitates interaction between diverse groups of students within an environment that respects and celebrates the uniqueness of all community members.
He received the prestigious Posse Foundation Leadership Scholarship to attend Trinity College in Hartford, Connecticut, where he graduated with a B.A. in political science and history and with an M.A. public policy with a concentration in education policy. He is currently a student at the University of Hartford, where he is pursuing his doctorate of education in educational leadership.
"We are very pleased that Juan is joining Goucher College," said Aarika Camp, Goucher's vice president and dean of students. "He has a passion for helping students create meaningful experiences that celebrate various identities while also fostering a safe community."