October 3, 2022
The 2022-23 Arsht Presidential Diplomats
Twenty-one students have been chosen for this distinguished program, supported by the Roxana Cannon Arsht '35 Center for Ethics and Leadership at Goucher College.
Goucher College is proud to announce this year's cohort of Arsht Presidential Diplomats. The diplomats are a group of student leaders chosen to represent the college in the community—at events, committee meetings, and more.
"The Arsht Presidential Diplomats Program provides opportunities for Goucher students to develop their leadership skills, participate in community-facing events with the president and cabinet, and provide feedback on key issues pertaining to the college and student life," said Lana Oweidat, associate professor of rhetoric and composition and the Arsht Professor in Ethics and Leadership. "Our students participate in training retreats with a focus on ethical leadership and engage in thought-provoking sessions with speakers in leadership roles within our local community and beyond. This signature program helps our students continue to develop as confident, ethical leaders who will change the world."
It is a prestigious position on campus, as these student leaders gain professional experience while advocating for the college and its community.
"The 2022 cohort of Arsht Presidential Diplomats are an impressive collective, exemplifying the intellectual, social, and cultural diversity found within our student body," said Lindsay Johnson-Walton, the France-Merrick Director for Community-Based Learning within the Arsht Center for Ethics and Leadership. "Together, they represent 12 majors, eight athletic teams, seven states, three countries, and a cumulative GPA of 3.7."
In addition to their role as Arsht Diplomats, these students hold high-level leadership roles on campus, serving as residential assistants, Goucher guides, team captains, student government executive leadership, club presidents, and more, and they are actively involved in service to their local communities. "This group of students reflects the very best of Goucher—and they are wonderful representatives of our unique and vibrant academic community," said Johnson.
The Arsht Presidential Diplomats are supported by the Roxana Cannon Arsht '35 Center for Ethics and Leadership at Goucher College, which is funded by a $2 million gift from Adrienne Arsht in honor of her mother.
Read on to learn more about this year's Arsht Presidential Diplomats.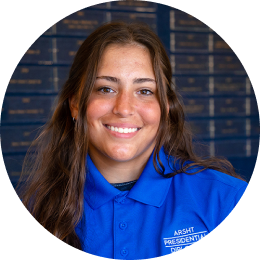 Aaliyah Ybarra is a junior double majoring in psychology and sociology/anthropology with a minor in philosophy. She is interested in furthering her career by going into humanitarian aid as a Peace Corps consultant after undergrad or going to grad school and getting her master's in social psychology. When she is not busy studying you can find her on the tennis courts playing for Goucher's women's tennis team, with her head in a book, or outside enjoying the weather and nature.
---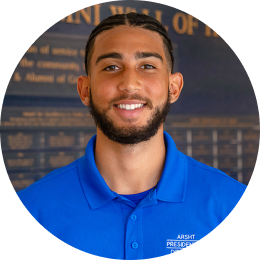 Ali Kazim Nakhid is a senior international student athlete majoring in psychology with a minor in international business and a men's soccer team captain. He interned with OneShared.World, spearheading a committee in developing a food insecurity resolution that will be adapted by the United Nations and other global entities. Ali speaks four languages, English, Arabic, French, and Spanish, with the last two being picked up during his undergraduate years in the U.S. Ali aspires to pursue a soccer career while being a diplomat.
---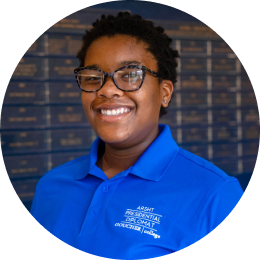 Alorah Collier is starting her second year and is interested in social justice and majoring in Spanish with a sociology focus. On campus, Alorah has taken on multiple roles, including working as a residential assistant, a co-instructor with the Futuro Latino Learning Center, and an intern working remotely with NCCJ STL. In the future, she hopes to travel abroad and learn about the different cultures of the world. She hopes to lead with an open heart and mind through social justice and youth leadership works.
---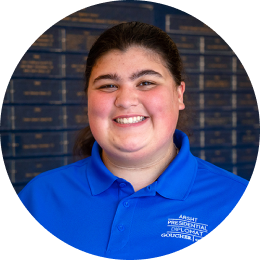 Autumn Custis is a junior currently majoring in political science and minoring in religion and injustice. Around campus, she wears many hats, including as a resident assistant, an OSE intern, and an administrative coordinator for the Student Engagement Team. She also is an avid volunteer within the Student Support Network, which supports children in Baltimore County Schools. In her rare free time, Autumn likes to do escape rooms, travel domestically, and play board games.
---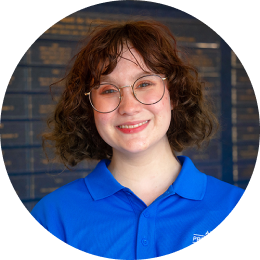 Autumn Krist is a second-semester junior majoring in psychology. Since a young age, she has wanted to help people and better the world. This is shown in her love of animals and plants and her work as an Equal Access co-president, a club dedicated to the support and advocacy of disabled students. This passion for helping people pushes her to continue working to become a therapist in the future as well.
---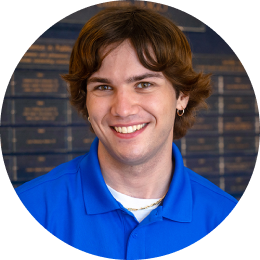 Christopher Longo is a senior majoring in education with a minor in professional writing. He has always had a passion for education as his teachers throughout grade school consistently inspired him to work with students. His educators showed him compassion, how to accommodate others, and why it is so important to provide equitable opportunities to all individuals. Christopher aspires to pursue a career as a special education teacher in Maryland schools.
---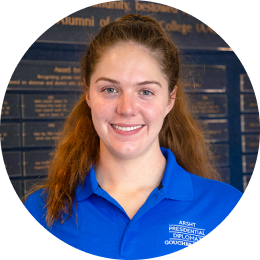 Cordelia Edwards is a junior majoring in business administration and minoring in equine science. On campus she serves as a captain for the Varsity Equestrian IHSA and ANRC teams and as a Quantitative Reasoning tutor. In the summer of 2022, her passions of management and animal husbandry were combined in an internship at a working cattle ranch in Wyoming where she cared for over 60 horses and 800 cattle. Inspired by the unique experience, Edwards aspires to a career in agricultural supply-chain logistics.
---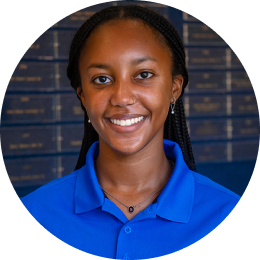 Daryn Carter is a junior double majoring in international relations and Spanish. Daryn is currently the team captain on Goucher's field hockey team, a Spanish supplemental instructor, and a tutor and student coordinator for the Writing Center. She has interned for the Baltimore Museum of Industry, where she helped improve accessibility for Spanish speakers by creating audio guides. Her goal is to focus on the international community through law or political consultancy, where she can work on pressing issues in the world today.
---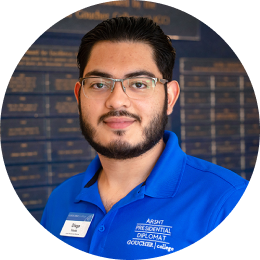 Diego Toledo Juarez is a sophomore double majoring in political science and international relations with a minor in French. He has been awarded the Maryland Young Pennell Scholarship the past three years. Diego is a student ambassador, the vice president and co-founder of Nomad Student Association, an InterConnect intern in the Global Education Office, and a member of Goucher Christian Fellowship. He has worked with Maryland's Department of Education as an advocate for English Language Learners and intends to become an immigration lawyer.
---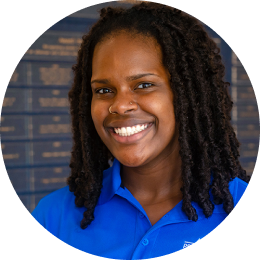 Elizabeth Bobo is a senior majoring in professional & creative writing with a concentration in professional writing rhetoric. She also has a minor in political science. She aspires to a career in either professional communication, playing an active role in local, state, or federal government, or higher education. When she is not writing essays, you can find Elizabeth playing volleyball, helping other students discover their love for writing at the Writing Center, or cultivating creativity through student organizations as the SGA director of student organizations.
---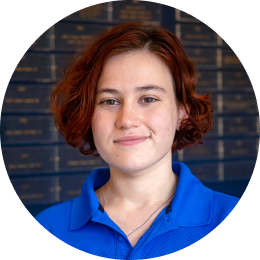 Jen Spar is a senior women, gender, and sexuality major. She serves as an administrative assistant for the Goucher Center for Race, Equity, and Identity (CREI) and volunteers for the Goucher Prison Education Program (GPEP) and the Baltimore Harm Reduction Coalition (BHRC). Her current focus has concentrated around cultivating interdependence and delving deeper into harm reduction philosophy. She is passionate about intersectional, transformative justice and hopes to work hands-on to minimize the current impact of systemic violence(s).
---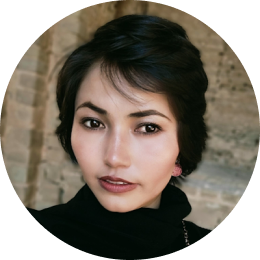 Laila Shahin is a Hazara girl from Afghanistan and a junior majoring in sociology/anthropology with a focus on legal studies. She is a student assistant in the library and interested in law because she believes in justice, equality, peace, and human rights for everyone. She also stands for women's rights, specifically for the women not allowed to go to school in Afghanistan. Because of her experience facing discrimination as a minority in Afghanistan, Laila will pursue law school to fight for the basic needs of her generation.
---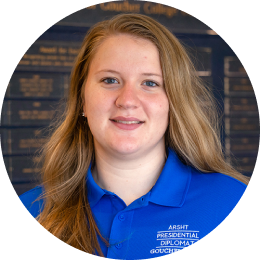 Lydia Bailey is a junior majoring in biology with a double minor in chemistry and psychology. She is a teaching assistant and tutor, a resident assistant, and an admissions ambassador. She is part of many clubs and groups, including the Student Engagement Team, the Student Athlete Advisory Committee, and the Student Success Committee. She competes for women's basketball and is a thrower for track and field. She wants to become a genetic counselor, assessing risk for conditions like genetic disorders and birth defects and finding a solution.
---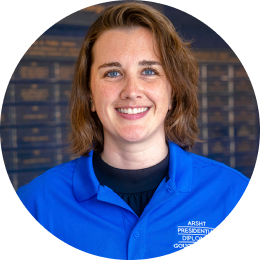 Mariah Lees is a senior psychology major. She is enrolled in the Goucher II program for adult learners, after a decade in tourism and hospitality on the West Coast. Psychology builds on her experience as a kayak guide helping others navigate challenges. Though she anticipates returning to rugged terrain, Mariah loves her role as a research assistant in the Attention and Perception Lab with Dr. Ghirardelli and the Memory Lab with Dr. McCabe. She plans to pursue a cognitive psychology Ph.D. in Fall 2023.
---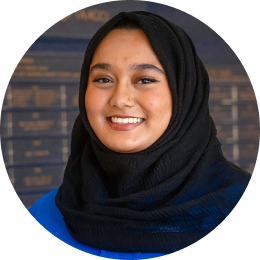 Maryam Ahmed is a senior majoring in biochemistry and molecular biology with a minor in French transnational studies. On campus, she tutors biology and general and organic chemistry and is a Writing Center tutor and student coordinator. She is the president and treasurer of the Muslim Students Association and a research intern in the Chemistry Department studying the synthesis and properties of a potential anticancer drug. She hopes to combine her love for medical sciences with her passion for supporting her community by becoming a pediatrician.
---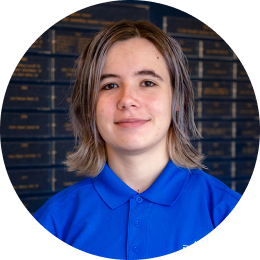 Percy Hoffstein is a senior majoring in peace studies and creative writing in her second year as an Arsht Diplomat. She is involved on campus through her job at the Registrar's Office, as a soprano in the a capella group "Red Hot Blue," and as a performer in Pizazz. Her love for storytelling and international relations has fostered a propensity for communication that aided in her 2021 internship with Z+C LLC, a bipartisan lobbyist group. Percy aspires to be a professional writer and work in community aid.
---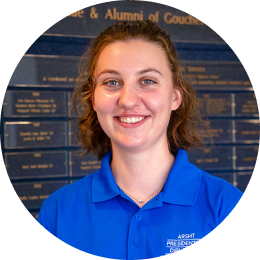 Reese Finnigan is a sophomore studying history. Her involvement on campus with the track team and the student newspaper has fostered a love for leadership and hard work. Hailing from Dallas, Texas, Reese can often be found enjoying the "three R's:" reading, running, and rock n' roll. She is pursuing a future career in criminal law, with hopes of bringing justice to the world, one mile at a time.
---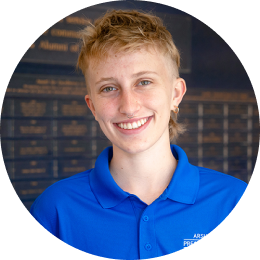 Sam Koseff is a sophomore exploring their love of the arts and LGBT activism by double majoring in dance and women, gender, and sexuality studies. They focus on choreography, performance, and LGBT issues and hope to become a gender studies and dance professor after a career in dance and choreography. They are a recipient of the Galla, Rosenberg, and Mary Fisher scholarships and a Dean's List student. They have supported Goucher in many campus positions, including as Goucher guide, student ambassador, and CREI diversity peer educator.
---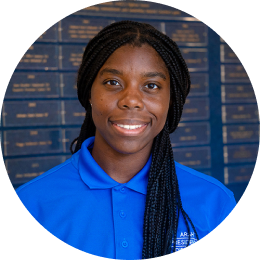 Sarai Oquendo is a sophomore majoring in business management, with a concentration in international business, and double minoring in Spanish and French. Her passion to pursue an international business path stems from her multilingual background and love for foreign investments. Her desire is to work for an International private equity firm. In an internship working as an assistant chief financial officer, she oversaw bookkeeping, conducted financial and tax compliance analysis, and generated ideas to bring in more investors and overseas clients.
---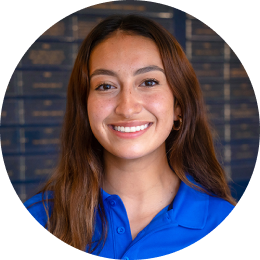 Tatyana Jimenez is a junior double majoring in international relations and professional writing and minoring in legal studies. Her pursuit of these fields was inspired by her grandparents' journey to United States citizenship. Through their experiences, she learned about the richness of Mexican culture and the injustices of the American legal system. Tatyana began working for the Goucher Prison Education Partnership, where she learned the importance of educational access for people who are incarcerated. Tatyana aspires to become an immigration or criminal justice attorney.
---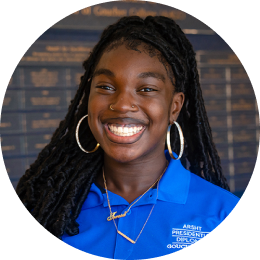 Teresa Okello is a junior majoring in biological sciences while minoring in chemistry and public health. Her interest in student leadership and advocacy is apparent in the roles she has taken on at Goucher College as a Goucher guide, supplemental biology instructor, and biology help center tutor. She aspires to a career as a physician's assistant with a focus on public health advocacy. She is also excited to study abroad in Bali during Winter 2022 to learn about the country's arts, music, and culture.
---