October 1, 2015
Celebrate at the Opening Reception, 10/17, 3-5 pm!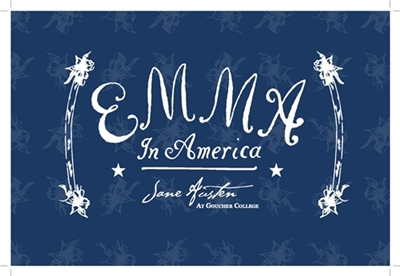 Exhibit Opening Reception
October 17, 2015
3-5 p.m.
Sanford J. Ungar Athenaeum, 4th Floor & Hyman Forum
The Emma in America exhibit opening reception, to begin with a brief introduction by Austen scholar Juliette Wells, and a dance performance by Choregraphie Antique. This event is free, sponsored by the Friends of the Goucher College Library, and hors d'oeuvres and wine will be served. Tickets are required and will be available at www.goucher.edu/tickets.
Established in 1988, by Goucher Professor Emerita of Dance Chrystelle Bond, Choregraphie Antique performs historical dance reconstructions. The troupe has performed at many historical and cultural sites throughout the Mid-Atlantic, including President Obama's Inaugural Ball in 2009.
Please see the college press release for the full calendar of events.
Please visit www.emmainamerica.org for more information about this project.

More Information about the Exhibition
To celebrate the bicentennial anniversary of Jane Austen's beloved novel Emma, the Goucher College Library will host Emma in America: Jane Austen's Novel through Two Centuries. The exhibit will spotlight one of the treasures of its world-class Jane Austen Collection: the very rare first American edition of Emma, published in Philadelphia in 1816. The exhibit will run from August 25, 2015, through June 20, 2016, on the 4th floor of Goucher's Sanford J. Ungar Athenaeum. It tells the fascinating story of how and why this novel came to be printed in America-without Austen's knowledge-only months after the first English edition was released.
The exhibit also traces the eventful history of Goucher's particular copy-one of only six known to exist-and introduces viewers to its distinguished owners, who include the Countess of Dalhousie and the English poet Siegfried Sassoon, as well as Goucher alumna and collector Alberta Hirshheimer Burke. A gallery of illustrations and cover art from historical and modern editions of Emma from over a dozen countries completes the exhibit.
The exhibit is part of the Goucher College Library's Emma in America campaign, which will feature events, lectures, and an interactive website in celebration of the 200th anniversary of the publication of Austen's beloved novel Emma. For more information, go to www.emmainamerica.org.