2002 Scholar Mary Favret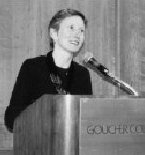 March 5-9, 2002. Mary Favret, associate professor of English at Indiana University. Her public talk, "Jane Austen and Everyday War" addressed the famous "everyday" quality of Jane Austen's novels from the perspective that "everyday," for much of Austen's life, took place in wartime. Specifically dealing with Austen's novel Persuasion, Favret's talk focused on the wars between England and Revolutionary and Napoleonic France and how they felt to a public, far removed from the actual violence, which had no televised - or even photographic - access to information about them.
During her weeklong residency, Favret used the Burke Collection to conduct research on this topic and on the Burkes themselves. "I am hoping to understand their devotion to Austen and the motives governing their collection," Favret said.
Favret is the author of Romantic Correspondence: Women, Politics and the Fiction of Letters. Her essay, "Happy and Free: Jane Austen in America," is included in the book Janeites: Austen's Disciples and Devotees. A Phi Beta Kappa graduate of Dartmouth College with a doctorate from Stanford University, Favret has been honored with a fellowship at the Bunting Institute, Radcliffe College; the Outstanding Young Faculty Award from Indiana University and the Mabelle McLeod Lewis Dissertation Fellowship.