About the Library
Directions to the Library at the Athenaeum
Drive through the Goucher College gate, and continue through the gatehouse entry.
Turn left just after the gatehouse and park in the Rhoda M. Dorsey College Center (Visitor) parking area.
Walk up the steps into the Dorsey Center.
As you exit the Center's courtyard, keep to the right and follow the signs.
Accessibility
Passenger drop-off:
Enter through the main gate and travel around the loop road counter clockwise.
Pass the large parking lot on your left. When the road divides, bear left.
You will drive up in the direction of the Alumni/ae House.
When you reach the accessible parking area at the Alumni/ae House make a right and follow the driveway up to the Athenaeum entrance, Forum level. If the access gate is lowered, push 0 (zero) to speak to Security.
Accessible Parking: There are two accessible parking spaces near the forum level entrance. More parking is available at the Alumni/ae House lot.
General Travel Directions to Goucher
See the Goucher College Contact and Directions page.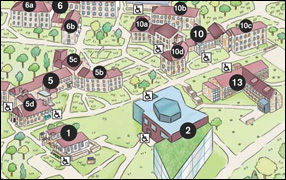 View a Printable Campus Map (PDF)