Daevon '19
Psychology major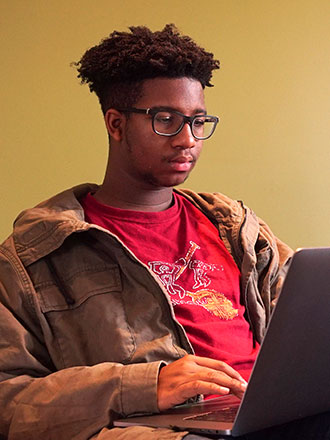 By his own admission, Daevon Gurley '19, an 18-year-old first-year junior, is shy. So communal living in Pagliaro Selz Hall, part of Goucher's First-Year Village, took a bit of getting used to.
"Me being a generally reserved person, that's been a challenge," says Gurley, who was homeschooled from fourth through 10th grade and earned 60 college credits before coming to Goucher. "Having common rooms and being able to walk upstairs to watch a movie has helped me."
Getting out of his shell means that Gurley, a psychology major who plans to study neuroscience, now does his homework in the group study area rather than his room.
"People tend to disconnect so much in real life. Now I thrive doing work in the common room," says Gurley. "As I got more comfortable, I saw I would have to open up."
Opening up his horizons also means exploring academic offerings like Embodying Lemonade, a Complex Problem Exploration course that takes a deep dive into the politics of gender, class, and race using Beyoncé's Lemonade as a framework.
"It's amazing what you can do when you think analytically and critically about everything," says Gurley.
Gurley says his Goucher experience, particularly in the First-Year Village, has helped him develop a more positive outlook. "Community [at Goucher] is the biggest asset. At Goucher, everybody is here for each other. I'm thriving," he says.