Arthur Mutijima '18
When students are asked for their hometown, it usually requires a one-, maybe two-word response. For Arthur Mutijima '18, it sparked a fascinating conversation.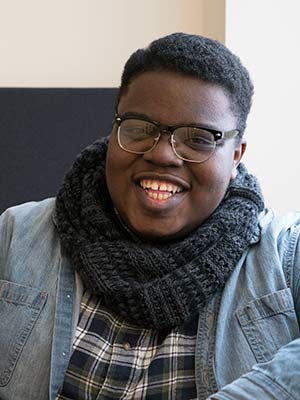 Arthur's mother is from Rwanda; his father is from the Democratic Republic of the Congo. Due to the deadly civil war in the former country and the bitter conflict over natural resources in the latter in the mid-1990s, both of Arthur's parents were displaced and met in Kenya. Arthur was born in Nairobi, and the family lived there for another eight months before finding refuge in Frankfurt, Germany, where they spent the next 13 years.
In 2009, the family moved to the United States—first to Silver Spring, Maryland, followed by Detroit and then Baltimore, where Arthur attended Baltimore City College for high school. One of Goucher's admissions counselors did a presentation there for prospective students, highlighting the college's emphasis on global citizenship.
Arthur says, "I am a global citizen. I speak French, German, English, and Kinyarwanda. In high school I was asking myself if I could have multiple identities. Goucher seemed like a place that said, 'Yes, you can.'"
Goucher had the added benefit of offering one of the nation's few peace studies majors. "I knew I wanted to do peace studies, and Goucher is rare in that it offers courses at the undergraduate level," Arthur says.
The college's Peace Studies Program is based on the understanding that differences enrich our lives, a sentiment Arthur embodies in his thoughts and his actions, as demonstrated by his on-campus participation in groups and initiatives that emphasize social justice and inclusion.
He is a member of the student government's Social Justice Committee, which works to help create sustainable projects that promote civic society, equality, education, and other social justice ideals in both the Goucher and Greater Baltimore communities. Arthur and other committee members review student-submitted grant applications for funding to hold social justice events or to do service projects in Baltimore City.
The Goucher Student Government (GSG) also was looking for an involved community member with a lot of connections on campus to serve as a student advocate. Arthur was a natural pick. "My main job is to listen and report back to the senators on what students are talking about, to be that link between the student body and the student government," he says.
Arthur is also on the board of UMOJA, Goucher's black student union, and he is a member of the United Students of Color Coalition (USCC), a new student-led organizing group that is working on raising Goucher's collective social consciousness on the existence of institutionalized racism and its effects on people of color around the world and students here in the Goucher community. He says, "The USCC's goal is to bring racial equity to students of color and to explain what that means and what that looks like."
He believes the USCC has important work to do, but he is heartened by the fact that "Goucher attracts the kind of students who want to live by the Community Principles" of respect, inclusion, communication, service and social justice, and responsibility. "These things are part of the groundwork here, we just have to do the work to actualize them," he says.