Andrés Córdoba '18
Andrés Córdoba '18 has a standing appointment to spend time with his mom.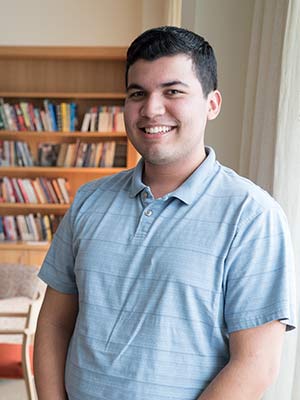 Several Saturdays a month he volunteers teaching computer classes at the Futuro Latino Learning Center (FLLC), a free program provided through Goucher's Office of Community-Based Learning that provides English-language classes and educational opportunities to the Latino community of Baltimore County.
It just so happens that Andrés' mother is one of the community members who come to the center each week to practice conversation skills and to receive ESL and basic computer training.
Their family moved to Owings Mills, Maryland, from San José, Costa Rica, in 2009. Andrés says he still remembers getting pulled out of his middle school classroom to go to "special classes just for students like me to learn English from zero. I had spoken Spanish my whole life and had to learn how to write in English and how to read English."
He adds, "I think that is what inspired me to work with immigrants. I can relate to their experience and what they're going through. There's no judgment on my side. I'm supportive, and if they have any questions, they know they can always come talk to me in either language."
Andrés has a natural inclination to be friendly and helpful. "Whenever I meet people, I try to make a connection," he says.
On Goucher's campus, he creates bonds not only through the FLLC, but also through the Hispanic Organization for Learning and Awareness (iHola!). Andrés and other members do fun things like teach cooking and dance lessons, but they also engage in serious discussions on topics that affect Latino community members and get involved in inclusion efforts to make sure their voice is heard on campus.
He's also on Goucher's Student Health Advisory Committee, which both provides him with an opportunity to advocate for students' physical and mental wellbeing and helps give him a leg up for his plans to attend medical school.
Andrés has a particular and personal interest in equitable health care. When he was growing up in Costa Rica, his mom raised him and his brother as a single mother. The boys often suffered from severe asthma attacks, and it was always hard for their mother to find quality health care because they didn't have the money to pay for it. "Usually she would have to set up payment plans so she could afford our care," he recollects.
"I think that impacted my view that everyone deserves quality health care no matter who they are or what their circumstances are," Andrés says. "Each patient matters to someone—either their mom or their dad, but to someone. I'm really, really motivated to help in a way that benefits everyone."
And so he plans to take a year off after Goucher to go abroad and do some kind of volunteer work in health care and then head to medical school farther away from home, maybe Chicago or somewhere in California or Texas. He says he's not sure what kind of physician he'll be because it's still so early. He has yet to declare his major in either chemistry or biochemistry.
"But my mom says I would make a great pediatrician," he says.