Jackson Gilman-Forlini '12
Visual and Material Culture, Historic Preservation Minor
"My employer was looking for someone who studied historic preservation at the undergraduate level and there are few programs out there. Just by offering that program alone allowed me to be competitive in the job market."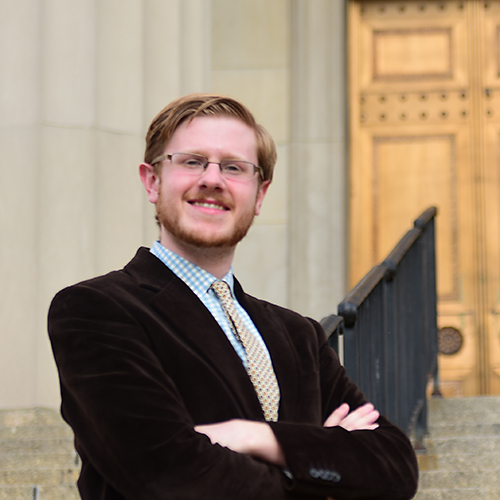 Gilman-Forlini '12, M.A.H.P. '18, majored in music with a historic preservation minor and then returned to Goucher in 2015 for a master's in historic preservation. Goucher recently created a Visual and Material Culture (VMC) Program, which combines historic preservation and art history from broader and multiple perspectives.
Gilman-Forlini says Goucher's Historic Preservation Program, even as a minor, helped him stand out in the applicant pool. "My employer was looking for someone who studied historic preservation at the undergraduate level and there are few programs out there," he says. "Just by offering that program alone allowed me to be competitive in the job market."
Immediately after graduation, he worked in the Maryland State Archives before becoming the historic preservation officer for Baltimore City's Department of General Services. What started as a temporary role became a permanent one that Gilman-Forlini helped craft. He loves working with people and seeing where "the rubber hits the road," he says, in terms of tax dollars in action. "The people who work in this field are very passionate and derive a lot of meaning from their work, and that part is very exciting," he adds.
Gilman-Forlini's advice for current students is to listen and ask questions of their professors. For him, it was April Oettinger and Tina Sheller in the VMC Program who instilled both the technical aspects and mentorship he needed to help him get where he is today. It also goes without saying, he adds, to do internships. There are many cultural institutions in Baltimore—archives, museums—that would be happy to have an intern. "I encourage students to be fearless about reaching out to places," he says.