April 18, 2018
President Bowen Honored by Chamber of Commerce
Goucher College President José Antonio Bowen was honored by the Towson Chamber of Commerce at the inaugural "Toast of the Town" awards event on April 14.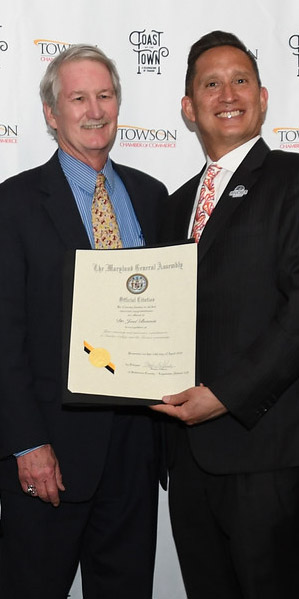 President Bowen was recognized in the "Innovate" category for his contributions to the recent innovations at Goucher. Maryland State Delegate Stephen Lafferty also presented him with a citation to mark the occasion.
Since becoming Goucher's president in 2014, the college has been named one of the top 10 most innovative colleges in the country by U.S. News & World Report and recognized as an 'Innovator of the Year' by Maryland's The Daily Record.
Under President Bowen's leadership, Goucher created the first college video application alternative in the nation when it debuted the Goucher Video Application (GVA). During his time as President, the Goucher faculty developed the new Goucher Commons curriculum that focuses on writing and data analytics to prepare students for jobs of the future. And, last summer, the college upcycled three 1,100 ton buildings from its historic Towson campus, while being historically and sustainably responsible, in one of the largest and fastest building relocations to ever take place on a college campus.
The chamber's recognition is in addition to the 2018 Ernest L. Boyer award President Bowen received from the New American Colleges & Universities earlier this year for his significant contribution to American higher education and he was also recently included on the list of 2018 Influential Marylanders by The Daily Record.