September 17, 2018
Goucher named one of the Most Innovative Schools by U.S. News & World Report
The U.S. News and World Report's Best Colleges Report has once again ranked Goucher College in its comprehensive list of "Most Innovative Schools."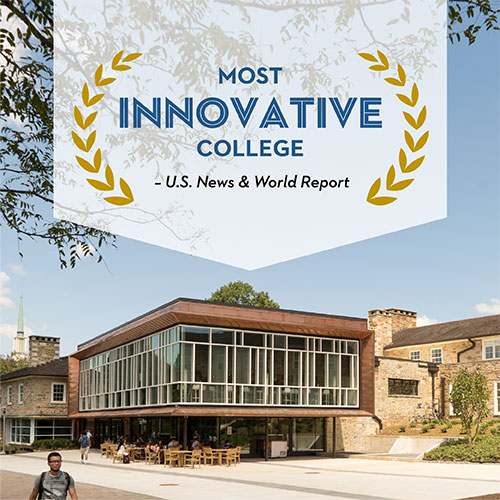 The U.S. News and World Report's Best Colleges Report has once again ranked Goucher College in its comprehensive list of "Most Innovative Schools."
Goucher's 2019 stats:
12 on the list of Most Innovative Schools, out of the 35 liberal arts colleges selected by top college officials
116 on the Best National Liberal Arts College list, among more than 250 colleges
Ranked 67th by high school counselors (up from no. 71 last year), with a 3.9 out of five approval rating
Once again listed as an A+ school for B students
Welcomed its third largest class of incoming students, with 432 first-year students
This is the fourth year that U.S. News has asked top college officials to rank the schools that are making the most innovative improvements in curriculum, faculty, students, campus life, technology, and facilities. This year, college officials were asked to nominate 15 colleges instead of 10, as they have previously for the Most Innovative Schools list.
Schools needed a minimum of seven nominations to make the cut for Most Innovative, and they were then ranked based on the number of nominations. College officials put Goucher at number 12.
President José Bowen praised the entire campus for the teamwork that resulted in Goucher's improved scores from high school counselors and ranking in the top half of the most innovative liberal arts colleges.
"We are thrilled to be recognized for the many innovations of the past years," Bowen said. "We as a college have worked tirelessly to innovate in all areas, from curriculum to new buildings and a new career program."
Additionally, Goucher's nomination as an A+ school for B students shows our ability to see students in their entirety and not just a high school transcript or SAT score, Bowen said.
"At Goucher, we are constantly asking how we can better personalizes students' education and college experience to meet their individualized needs." Bowen said.
U.S. News also sought opinions from almost 24,400 high school counselors from 50 states. Half of these counselors were asked to rank national liberal arts colleges on a scale of one to five. The survey results were then averaged from 2016, 2017, and 2018 to give Goucher a score of 3.9 out of five.
"It's wonderful to celebrate not only where we are but where we're going," Bowen said. "I'm fortunate to be a part of an institution that seeks innovation within itself."