March 2, 2021
Goucher announces John A. Luetkemeyer Sr. Endowed Chair Fund in Mandarin Chinese and Asian Studies
The Luetkemeyer Chair Fund supports the hallmark of a Goucher education – global learning.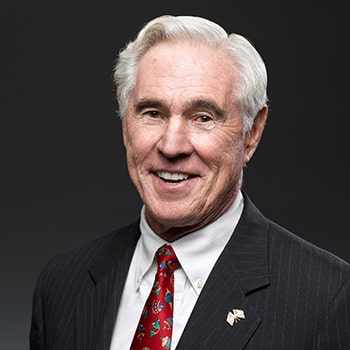 Goucher College has announced the establishment of the John A. Luetkemeyer Sr. Endowed Chair Fund, an endowed professorship in Mandarin Chinese and Asian studies at the liberal arts college. This new endowed professorship supports the hallmark of a Goucher education – global learning. Goucher was one of the first colleges in the United States to formally recognize the importance of a global perspective in education by requiring study abroad for all of its students. At Goucher, global education expands beyond languages and study abroad, to include curriculum enrichment, cross-cultural engagements, and co-curricular activities. A nationwide search has been launched to hire the inaugural Luetkemeyer Chair professor.
"Goucher College has been and continues to be a pioneer in global education, and this endowed professorship underscores Goucher's commitment to integrating a global perspective throughout our students' education," says Dr. Elaine Meyer-Lee, senior vice president and provost, Goucher College. "We are thankful to the Luetkemeyer family and the other donors who have made this long-term investment possible. The Luetkemeyer Chair endowed professorship will enrich curriculum offerings for our students and help us expand our Asian studies offerings."
The Luetkemeyer Chair Fund demonstrates the importance and influence of Mandarin Chinese and Asian studies. Mandarin Chinese is one of the most spoken languages globally, and the number of U.S. high schools offering Mandarin Chinese has been increasing in recent years. Goucher is also adding an Asian studies minor that will expand the current curricular offerings to delve deeper into the region's history, politics, and philosophies.
John A. Luetkemeyer, Sr. was a long-time trustee, chair, and trustee emeritus of the Goucher College Board of Trustees. A notable member of the Baltimore business and philanthropic community, Luetkemeyer was the former Maryland state treasurer, and CEO of Equitable Trust Co. The funding for this endowed professorship was made possible by the generosity of friends and family in honor of his memory. Michael and Patricia K. Batza '91, Goucher College trustee emeriti, helped coordinate matching gifts to the fund in the Luetkemeyer's honor.
"Growing up, I watched my father get involved in innumerable civic endeavors, while running the second largest bank in Maryland, and the one institution he loved most was Goucher," said John "Jack" Luetkemeyer, Jr. "I can't tell you the number of times either at the dinner table or in other conversations the names of [former Goucher presidents] Otto Kraushaar and Rhoda Dorsey came up. Not only did he have immense respect for both of them, but he considered each to be a dear friend. They were Goucher, and he was proud to be part of the team."
Luetkemeyer said he was inspired to support Goucher and this endowed professorship because his father strongly believed in the importance of gaining a global perspective. Growing up, Jack's father shared his belief that it is vital to learn new languages and about other cultures.
For more information on global education at Goucher, visit www.goucher.edu/learn/global-education.