July 25, 2022
Loretta Mahon Smith '83 has been named one of the Top 50 Women Leaders of Maryland
Women We Admire is pleased to announce The Top 50 Women Leaders of Maryland for 2022, and Goucher alumna Loretta Mahon Smith '83 has made the list!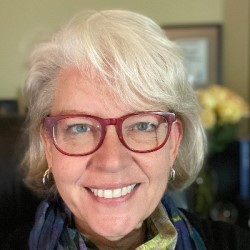 Loretta Smith
Data Governance Oversight Managing Director, Citi
As the Managing Director in Technology/Cyber Operational Risk for Data Governance Oversight, Loretta Smith provides oversight and challenge of firmwide data governance policy and standards, identification and implementation of data controls, development of a risk appetite, and effective data risk identification, management, and reporting to all levels of the firm. An experienced and noted data thought leader, she has a proven track record of implementing business value through innovative uses of enterprise information with data governance, data strategy, logical data models, metadata management, enterprise data warehouse and data mart design, data profiling and master data management. She is an accomplished speaker, writer, and facilitator, adept at relationship building in both business and technical environments. Smith enables communication between business and technical professionals using data modeling, technical writing, and presentation skills by creating technically accurate visual and written documentation of data requirements at the conceptual, logical, and physical levels. She acts as mentor on all facets of data stewardship, data governance, data architecture, data modeling, and Business Intelligence.
Additionally, Smith is the past president of DAMA International, a not-for-profit, vendor-independent, global association of technical and business professionals dedicated to advancing the concepts and practices of information and data management. In this elected position, Smith focused on transparency, trust, and effective operations in all DAMA-I's initiatives. As past president, she serves on the DAMA International Board of Directors. Smith has achieved mastery level certifications from DAMA International as a Certified Data Management Professional DMBOK v1, from TDWI as a Certified Business Intelligence Professional and from the ICCP as a Certified Computing Professional and Certified Data Professional.
Smith has also been included on Chief Data Officer Magazine's Global Data Power Women List for 2022.