April 25, 2018
Dr. La Jerne Cornish Earns Prestigious New Position
Goucher College is proud to announce that Dr. La Jerne Terry Cornish '83, M.Ed. '94, P '18 will become the new provost and senior vice president of educational affairs at Ithaca College.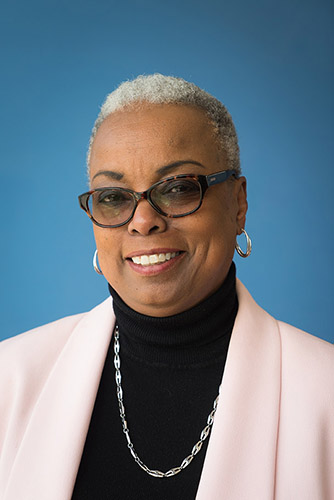 Dr. La Jerne Terry Cornish '83, M.Ed. '94, P '18 has been an integral leader of the Goucher community for 35 years, first as an undergraduate and graduate student, then as a professor, associate provost, and parent. While at Goucher, her efforts have resonated across campus and she has made a significant impact on thousands of students over the past two decades. La Jerne was Goucher's first African American alumna to be awarded tenure and the first African American to serve as both chair of the faculty and associate provost for undergraduate studies. For these achievements and many others, she was honored with the Goucher Distinguished Alumnae/i Award in 2016.
"Words cannot adequately express how grateful I am to have had the opportunity to work at my alma mater for the last 20 years," she says. "During my time here, I have had the pleasure of developing deep, lasting, and meaningful relationships with faculty, staff, and students, which will sustain me long after I leave this place.
"The Education Department, now part of the Center for Professional Studies in Business and Education, has been my disciplinary home and has been instrumental in the development of my leadership skills at Goucher. I will especially miss my departmental colleagues and am grateful for their encouragement and support during my tenure here. As I prepare to lead the academic division at Ithaca College by serving as its provost and senior vice president for academic affairs, I do so because of the education, preparation, and inspiration I received from Goucher College as well as from the Baltimore City Public Schools. I will carry Goucher in my heart always as I endeavor to 'prove all things and hold fast that which is good.'"
"La Jerne is a woman of integrity, loyalty, and virtue who has always put students first," says Goucher College President José Bowen. "No one could have been a greater supporter of Goucher College or of our students and I know she will bring the same commitment, enthusiasm, and aspiration to Ithaca. Her wisdom and dedication will be missed, but we know she will do equally meaningful work at Ithaca."
La Jerne's significant contributions to Goucher will be celebrated at various events over the next few months.