June 13, 2019
Kent Devereaux appointed 12th president of Goucher College
Devereaux will bring hands-on experience in higher education strategic planning, curriculum innovation, enrollment management, and fundraising for liberal arts institutions.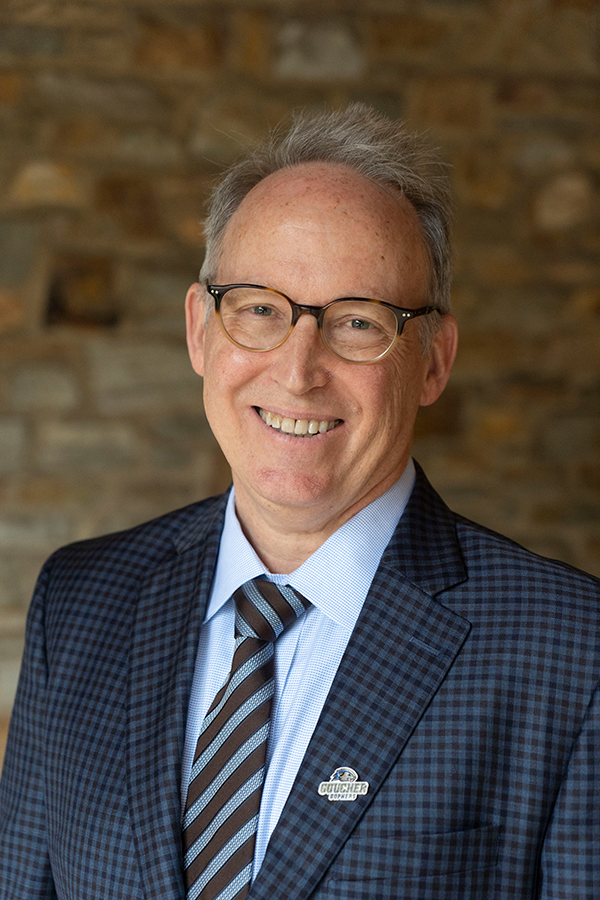 Baltimore, Md. (June 13, 2019)—The Board of Trustees of Goucher College today announced that it has selected Kent Devereaux to become the college's 12th president by unanimous vote last evening. He will assume the Office of President on July 1, 2019.
Currently the president of New Hampshire Institute of Art (NHIA), Devereaux will bring hands-on experience in higher education strategic planning, curriculum innovation, enrollment management, and fundraising for liberal arts institutions. His professional path also includes having served on the faculty and as chair of the department of music at Cornish College of the Arts, as senior vice president and dean of curriculum at Kaplan University, and as senior vice president for editorial and product development at Encyclopedia Britannica.
"President-designate Devereaux distinguished himself in a highly competitive and diverse pool of candidates that advanced through a thoughtful search process. He brings the right combination of higher education leadership experience, together with business savvy from his time in the private sector," said Ruth Lenrow, chair of the Board of Trustees.
"Selecting the college's president is one of the board's most important responsibilities. We owe deep gratitude to the Presidential Search Committee for their hard work and commitment which brought us to our 12th president," Lenrow continued. "My board colleagues and I are grateful to our Presidential Search Committee Co-Chairs Miriam Katowitz and Lisa Stromberg for their leadership, and we thank everyone involved for the time and energy that helped Goucher reach this historic day."
"We were very impressed with President-designate Devereaux's grasp of the opportunities and challenges facing liberal arts colleges today and his ability to implement his vision, and strategy for how Goucher can excel in the present environment," said Katowitz. "He is a good listener and a thoughtful individual who provides strong inspiration. We are confident that President-designate Devereaux will be able to lead Goucher College in collaboration with the full community to implement a shared vision," said Stromberg.
"I am honored and excited to become the next president of Goucher College, a treasured historic institution on a beautiful campus that now regularly ranks among the top 10 most innovative liberal arts colleges in the nation," said Devereaux. "Having recently retooled its curriculum, Goucher is way ahead of many of its peers in addressing how higher education must adapt to provide the students of today with the education that will best prepare them for the challenges of tomorrow. I am looking forward to building on those innovations and increasing the awareness of Goucher across the U.S. and abroad.
"I am grateful to the Board of Trustees and the Presidential Search Committee, and I look forward to engaging with faculty, staff, students, and the entire Goucher community to build what I know will be an incredibly bright future," said Devereaux.
As president of New Hampshire Institute of Art (NHIA), Devereaux worked with faculty to revise the curriculum, launched innovative new degree and certificate programs, tripled the college's annual fundraising, doubled the number of applications to the college, expanded enrollment across 30 states, and increased the average GPA of the incoming class. He also initiated and completed the successful merger of NHIA with New England College.
"My education and professional experience in the arts, higher education administration, and in business will help me meet the challenges and identify new opportunities for Goucher to collaborate with students, faculty, staff, alumni, donors, and local community leaders to achieve even greater success in the future," said Devereaux.
"I am particularly impressed by Goucher's requirement of study abroad for all students. As a former Fulbright fellow myself, and having lived and worked extensively in Asia, I strongly support Goucher's priority of educating students for our globally-connected world," Devereaux said. "Together with its longstanding commitment to social justice and diversity—extending back to its founding as a women's college—Goucher is educating the next generation of students for more than just their future jobs, but to also make a difference in the world."
Devereaux holds an M.F.A. from the School of the Art Institute of Chicago and a B.F.A. from Cornish College of the Arts. He has attained additional executive education at Harvard University's Kennedy School of Government, the University of Chicago's Booth School of Business, and the American Council on Education, among others. He will be joined in Baltimore by his wife, documentary film editor Jan Sutcliffe.
Devereaux will take office on July 1, 2019, following President José Antonio Bowen, who announced last fall that he would be stepping down at the end of June.