January 23, 2019
Goucher remembers Dean Martha Nichols for her dedication to students
An integral part of Goucher, beloved dean Martha A. Nichols '38 died peacefully at Brandon Woods Retirement Community in Lawrence, KS, on December 20. She was born October 26, 1916, in Columbus, OH, to Alfred and Phyllis Arnold.
Martha Nichols graduated from Goucher College in 1938 and then taught at Roland Park Country School for two years. After receiving her master's from Syracuse University, she returned to Goucher and served as dean of students for 34 years, retiring in 1976.
Marilyn Southard Warshawsky '68, a trustee emerita, described Nichols as a "linchpin" for everything that happened at Goucher during her tenure, including the campus' transition from downtown Baltimore to Towson and social movements that included peace protests and desegregation.
"The campus evolved, and she evolved. That's one of the strengths I see in a Goucher education and employment—not being afraid to grow yourself," Warshawsky said. "I could see her rolling with the challenges yet building on what she knew."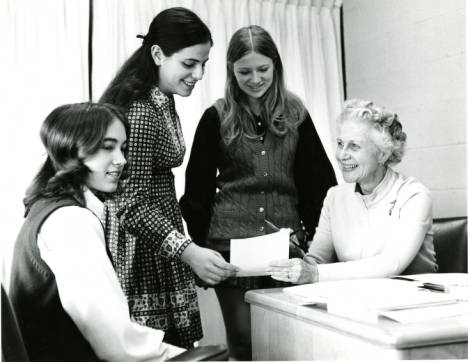 Nichols showed her students that they were capable women by supporting their social activism, Warshawsky said. Demonstrations and sit-ins at restaurants and movies were common, and Nichols and her office became familiar with helping students who were arrested, she added. The fact that students could go to their dean and ask for a riot to be put on the calendar showed that Nichols was a listener, not someone who would discourage their passions, Warshawsky said.
Although Warshawsky interacted with Nichols more as an alumna than as a student, she always saw her as an essential pillar of Goucher. "Dean Nichols had such a warm, kind smile," Warshawsky said. "But she was very smart, very organized. She was strong. To me, she embodied what I thought of as the Goucher women of her era—intelligent, curious, and a sense of service."
In addition to her career at Goucher, Nichols was very involved in the community. She was board secretary of the National Association of Women Deans & Counselors, board member of the Regional Salvation Army, board member of Trustees Park School, vestry member of Trinity Episcopal Church in Towson, and many others. Nichols was also an ardent golfer for over 60 years.
Nichols was preceded in death by her dear husband, Everett (Nick) Nichols. They were married for over 56 years.
She is survived by two sons, Stephen A. Nichols (Joyce) of Ijamsville, MD, and Jonathan S. Nichols (Barbara) of Valencia, CA; five grandchildren, Katherine Nichols (Peter Wright), Ann Vannest (Brian), Heather Nichols, Matthew Nichols, Kassondra Nichols; and three great-grandchildren, Xavier Hinty, Callan Macatol, and Oisin Nichols-Wright. She is also survived by her dear friend of many years, Betty Laird.