March 8, 2019
Bill Nye the Science Guy will be 2019 Commencement speaker
Bill Nye, science educator, engineer, and television host, has been named the Goucher College 2019 Commencement speaker. Nye was previously the Commencement speaker in 1999 when he received an honorary doctor of letters degree. The 128th Goucher College Commencement ceremony will take place on May 24, 2019.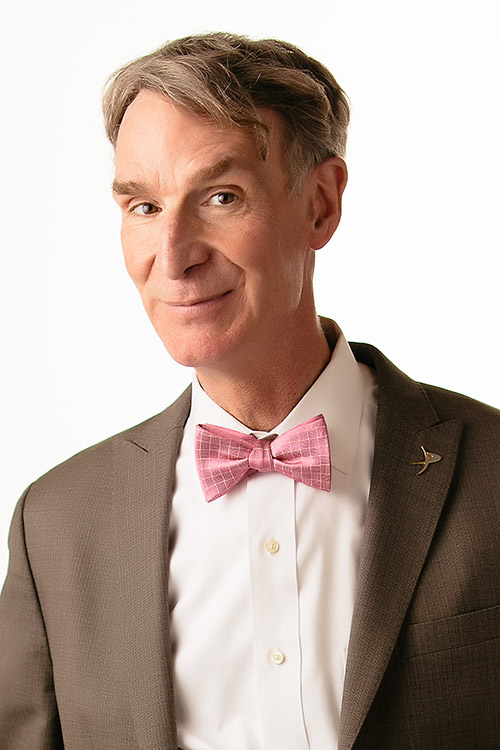 Nye is best known for making science entertaining with his Emmy Award-winning television show, Bill Nye the Science Guy. He is also a New York Times bestselling author of numerous books, including Unstoppable: Harnessing Science to Change the World and Everything All at Once: How to Unleash Your Inner Nerd, Tap Into Radical Curiosity, and Solve Any Problem.
In addition to his acclaimed show and books, Nye is also the CEO of the Planetary Society, the world's largest space-interest group, and he was a co-chair of the inaugural March for Science, which celebrated science and encouraged evidence-based policy in the public's best interest. In 2017, he returned to television with his Netflix series Bill Nye Saves the World.
"With his wit and wisdom, Bill Nye has shared the wonders of space and engineering and made learning fun for generations of students," says Bryan Coker, vice president and dean of students at Goucher College. "His insights and relevance have only grown since he last shared his unique perspective with our graduates. We welcome him back to campus and to the college where his mother holds a distinctive place in history."
Nye's mother, Jacqueline Jenkins-Nye '42, was a Goucher alumna and one of the Goucher "code girls." The Navy selected these students from the Goucher classes of 1942 and 1943 to work on the top-secret missions of decoding the complex German Enigma machines, which directly contributed to the Allied victory in Europe during World War II.
The Goucher College Commencement ceremony will take place on Friday, May 24, at 10:30 a.m. on the campus's Margaret M. Winslow Great Lawn.