February 8, 2018
Seeking Alumnae/i for Spring 2018 Goucher Community Choir
Alumnae/i are invited to join the newly formed Spring 2018 Goucher College Community Choir. No auditions. No fees. All are welcome!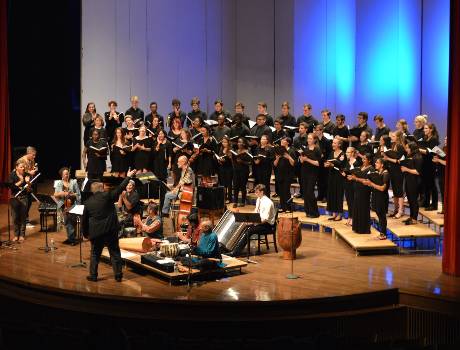 As part of Goucher's Spring 2018 theme semester, "Defining Community: Concepts, Cultures, and Practices," the Goucher Choirs invite alumnae/i, faculty, staff, and students to join the newly-formed Goucher College Community Choir. This is a great opportunity for those who love to sing, but don't have time to commit to an ensemble throughout the whole year!
There will be THREE rehearsals with the Goucher Chamber Singers, a dress rehearsal, and the performance (dates listed below). There is NO COST OR FEE to join the choir, and NO AUDITION. Singers are expected to attend rehearsals and practice their part using learning files that will be provided. Spouses, partners, siblings, children, friends, alumnae/i, neighbors, etc. of any faculty or staff member are welcome to join. Additionally, any person in the Baltimore community, regardless of whether they have a relationship with Goucher faculty, staff, or students, may participate.
The concert will be a collaboration with the Goucher College Orchestra (Dr. Elisa Koehler, director) and the Goucher College Choirs (Dr. Daniel McDavitt, director). The Community Choir will perform the concert finale, Beethoven's Choral Fantasy, a thrilling masterpiece that extols the virtues of community, harmony, and concord that are achieved through music and the arts. Pianist and faculty member Jeffrey Chappell will perform the featured piano solo, performed by Beethoven himself at the 1808 premiere.
Attendance at each of the three community rehearsals is expected. However, a one-rehearsal exception may be granted if you are unable to clear a conflict for one of the dates below. The dress rehearsal is mandatory.
Tuesday, March 27, Community Rehearsal, Merrick Hall, 7:00-8:30pm
Tuesday, April 10, Community Rehearsal, Merrick Hall, 7:00-8:30pm
Tuesday, May 8, Community Rehearsal, Merrick Hall, 7:00-8:30pm
Thursday, May 10, Dress Rehearsal, Kraushaar Auditorium, 7:00-9:00pm
Friday, May 11, Concert, Kraushaar Auditorium, 8:00pm concert, 7:00pm call time
If you are interested in joining, please sign up at this link or contact Dr. McDavitt via e-mail at daniel.mcdavitt@goucher.edu.