May 9, 2017
Dr. Friedman-Wheeler Serves as Associate Editor for the new The SAGE Encyclopedia of Abnormal and Clinical Psychology; Several Goucher Faculty Contribute
The SAGE Encyclopedia of Abnormal and Clinical Psychology was released in April 2017. The encyclopedia was created in order to provide a new, updated resource that covers the full scope of the field of abnormal and clinical psychology, as geared toward undergraduates.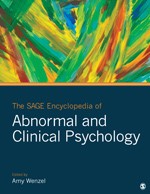 The full encyclopedia contains 7 volumes and over 1,400 entries. Dr. Dara Friedman-Wheeler served as one of the encyclopedia's two associate editors and is excited about the project. "This encyclopedia is comprehensive, international, and based on the latest research and theory. In addition, we have emphasized readability: topics are addressed in a way that is straightforward and accessible."
The Goucher College Library has purchased the e-book of the encyclopedia, so members of the Goucher community can search all seven volumes and read entries from "ABAB Research Design" to "Zung Self-Rating Depression Scale" by going to http://sk.sagepub.com/reference/the-sage-encyclopedia-of-abnormal-and-clinical-psychology or by clicking the image link below: (if on-campus; or searching through the library's WorldCat page if off-campus).
Links to entries authored by Goucher faculty are below: