Collaged Horizons
Exhibit Dates
Collaged Horizons is a two-person exhibition, featuring work by Saskia Fleishman and Emily Mason that will be presented at Goucher College's Rosenberg Gallery from Friday, September 18, to Monday, November 30. Please contact the Rosenberg Gallery for more information about visiting hours.
About the Exhibit
Collaged Horizons presents the work of two artists who reimagine the traditional landscape. Saskia Fleishman, a painter, and Emily Mason, a photographer, each tap into a sense of nostalgia and timelessness in their striking depictions of expansive Mid-Atlantic and Western landscapes. Fleishman works from a collection of her family's photographs, as well as Josef Albers' color theory, to create inverted, inset geometries in her meticulously crafted canvases. Emily's large-scale prints pivot between a number of analog and digital processes, reference images, and materials. The viewer is removed from a broader perspective of the environment, asked instead to focus on the intricacies of surface and tiny details of the terrain at an impressive scale.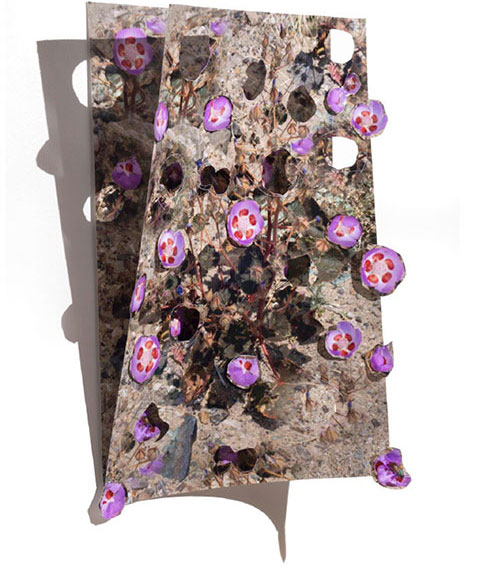 Together, these sliced and reconfigured vistas favor idealized design sensibilities and palettes to highlight the formal magnificence of both the source material and each artist's craftsmanship. They present new possibilities for the way we observe, record, and remember our experiences in nature.
In a year when access to travel is unbearably limited, these works help telegraph the exuberance of trips past and future, and finding oneself in the midst of a new landscape.
Saskia Fleishman, born in 1995, graduated Rhode Island School of Design in 2017 with a B.F.A. in painting. She has been an artist in residence at Vermont Studio Center, Wassaic Project, and Trestle Studios, and a curator in residence at Otis College of Art and Design. Saskia's work has been exhibited in a recent solo exhibition at Silo 6776 in New Hope, PA, and in group exhibitions across the United States, and in Rome and Portugal. Fleishman is based in Brooklyn, NY.
Emily Mason received her B.F.A. in photography from Maryland Institute College of Art in 2014.
Her work has been shown in Baltimore, New York City, Milwaukee, Chicago, Miami, and Santa Fe. Mason recently moved to New Mexico, where she is inspired daily by the light, landscape, and magic that surrounds her.