About Brooke & Carol Peirce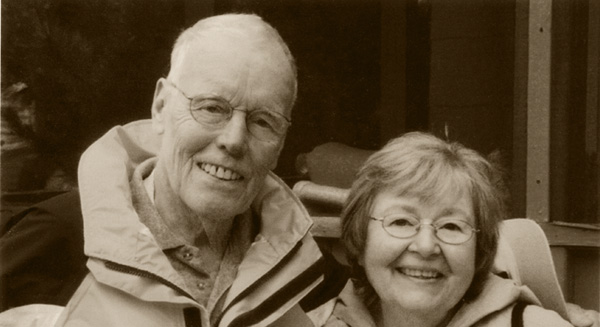 Brooke Peirce (1922-2003), Goucher College professor emeritus of English, taught at the college from 1954 until his retirement in 1985. He twice served as chair of the Department of English and Dramatic Arts, and he taught Shakespeare, Renaissance literature, and classical literature. After Brooke's retirement, he was an enthusiastic volunteer in Goucher's Special Collections Department.
Carol Peirce (1922-2005), a longtime English professor at the University of Baltimore, was a specialist in modern British fiction and shared with Brooke a love of Shakespeare and Renaissance literature. She served as president of the International Lawrence Durrell Society and of the Edgar Allan Poe Society of Baltimore.
Carol and Brooke met and were married in the early 1950s while they were both earning doctoral degrees in English at Harvard University. Together they authored a two-volume work, Introduction to English Literature (1954), and were both members of the Baltimore Bibliophiles.
Brooke and Carol Peirce dedicated their lives to scholarship, and the center operates in the spirit of their commitment to providing superior higher education and their enthusiasm for the treasures to be found in Special Collections & Archives.