Dr. Johnson's Dictionary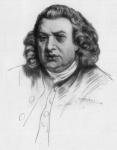 2005 marks the 250th anniversary of the publication of Samuel Johnson's Dictionary of the English Language. Goucher is fortunate to own a first edition, printed in 1755, of this important work that was a gift from Professor Hans Froelicher in 1928.
Professor Fred White of the English department contributed an essay to the exhibit, which also featured contemporary reviews from 18th century journals in the library collection and an intriguing background story about how the Dictionary came to Goucher through Dr. Hans Froelicher.