Yoga Nidra: A Power Nap, But Only Better!
Peejo Sehr, MAT, M.Ed.
Monday, April 15, 2019, 10 a.m. - 11:30 a.m.
Dance Studio - Trustees Hall (Directions / Campus Map)
Program Description
Yoga Nidra is an ancient sleep-based meditation technique that has the power to take you to the innermost, deepest levels of relaxation where your whole body and being is permeated by peace of mind and profound stillness.
Program Objective
The practice of Yoga Nidra will allow the participant to have more focus, awareness, and energy, along with improved wellbeing.
Program Format
Yoga Nidra Meditation: Exercises will be done on the floor, so please wear comfortable clothing as well as layers, as body temperatures tend to drop when in a profoundly relaxed state. You are encouraged to bring a blanket, pillow, yoga mat, eye mask, or whatever you may need for a relaxing nap.
Suggested Supplementary Materials
https://www.goucher.edu/learn/academic-support-and-resources/ace/
https://www.goucher.edu/learn/academic-support-and-resources/ace/stress-management
https://www.nytimes.com/guides/well/yoga-stress?utm_source=sharetools&utm_medium=email&utm_campaign=website&emc=eta1
https://www.nytimes.com/guides/well/how-to-meditate
About the Presenter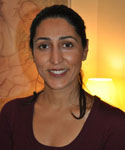 Peejo Sehr is the Director of Goucher's Academic Center for Excellence (ACE), the academic support center that assists students in their effort to prepare for a life of inquiry, creativity, and social responsibility, and to develop a sense of personal and professional ethics and integrity. She is also a Functional Medicine Certified Health Coach and a certified Yoga Nidra and Jivan Yoga certified teacher. She holds a Master's degree in Education (At-Risk and Diverse Learner) and a Master's of Art in Teaching from Goucher. Peejo has extensive experience working with diverse groups of people in the field of coaching, well-being and positive lifestyle change. She especially finds partnering with people experiencing major life transitions deeply gratifying and her calling is to support her clients to experience their unique expression of balance, optimum well-being, health and wholeness.