Community Building Events: Community Bowl
Goucher staff, faculty, and students are joining together to address food insecurity by partnering with Our Daily Bread, a hot meal program in Baltimore. Our Daily Bread relies on casserole donations and volunteers to serve 700 plus hot meals 365 days a year.

What can Goucher do to combat local food insecurity?
We are approaching this question with acknowledgment toward our own ignorance, and we want to engage in this learning process as a community. People are limited in their ability to create meaningful action until they have opportunities to talk deeply about the complexities of the problem. We want Goucher to be that opportunity.
There are three ways you can contribute to this partnership: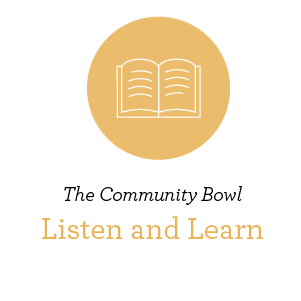 Common Hour: Understanding and Combating Food Insecurity
Wednesday, January 30 @ 1:15 p.m. | Mary Fisher Main Dining Room
Our panel of speakers used their wide range of perspectives to address systemic problems causing food insecurity. Lack of governement funding, racial inequities, and physical access to food all play a role.
Our speakers included:
Dr. Laurie Taylor-Mitchell, President of the Student Support Network
Dr. Phong Le, a math and computer science professor who is researching local food insecurity in collaboration with the Student Support Network
Dr. Carolyn Schwarz, an anthropology professor who offers a critique of structural problems related to food insecurity
James Williams, a student who has been integral in examining food insecurity on campus
This multi-dimensional problem has short- and long-term solutions. We are interested in continuing this conversation with you. For questions, comments, and ideas, contact Natalie Eastwood at natalie.eastwood@goucher.edu.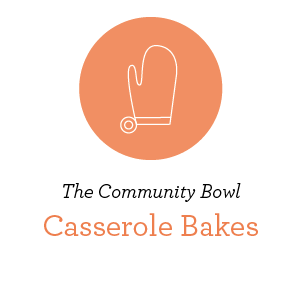 Attend a Cassarole Bake or Drop Off a Cassarole for donation (all casseroles donated to Our Daily Bread).
Community Casserole Bake
Friday, February 8
Friday, March 8
5:15 p.m. | Heubeck Multi-Purpose Room

We provide all the ingredients to make the casseroles. You bring your favorite happy hour drink.

Casserole Drop-off
Monday, February 18
Monday, March 18
9 to 10 a.m. | Mary Fisher Lobby

You bake the casserole and bring it to us frozen. We take care of the rest.
*All casseroles are donated to Our Daily Bread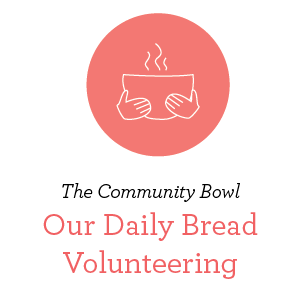 Volunteer
There are two days to volunteer at Our Daily Bread and a maximum of 10 slots per visit. Please, only sign up to volunteer if you can attend. We also ask that you choose one of the two days, not both. These are paid in-service days for faculty and staff. Students must ask professors for permission to miss class. The Community Bowl will provide transportation.


When:
Thursday, March 7
Tuesday, April 2
9 a.m. to 2 p.m. | Our Daily Bread
Please sign up by emailing natalie.eastwood@goucher.edu.

FOOD QUALITY FOR CASSEROLE DONATIONS
In order for Our Daily Bread to serve a cohesive meal, they request donations to be the same type of casserole. Please follow one of two recipes: creamy bean and potato casserole with carrots or chicken and rice.
Additionally, Our Daily Bread requires a strict protocol to maintain food quality for all casserole donations. Please follow instructions below.

HOW TO COOK YOUR CASSEROLE
Follow the recipes that Our Daily Bread provides on its website.
Wash your hands and cooking utensils.
Bake the casserole in a metal, disposable 12 X 10-inch pan that is 2 and 9/16 inches deep.
Freeze the casserole before donating. This is a critical step as the casseroles are stacked and will ooze out of their containers if not completely frozen.
Cover casserole tightly in foil and label the outside with the date, name of the recipe, and your name.
HOW TO DONATE YOUR CASSEROLE
The Community Bowl will be collecting casseroles Monday, February 18 and Monday, March 18 in the lobby of the Mary Fisher Dining Center.
Collections will take place from 9 to 10 a.m. both days.