Pets of Goucher
Meet the hardworking pets and animals of Goucher College! Want some face time? You can check out Riley, Chelsea, and Molly for walks over at the President's House—just get them home before dark. And Lucy, who hangs out at the Academic Center for Excellence, is always looking for snuggles during the day. We want you to do your best at Goucher, and that's not possible without plenty of support and time to de-stress. Our furry friends are here for you.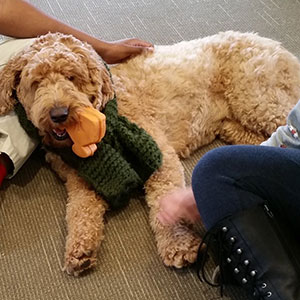 ---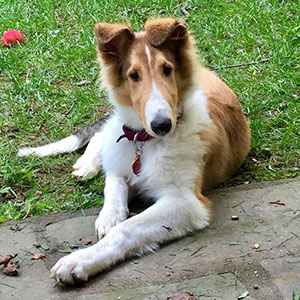 Riley
"The official dog toy tester"
Hobbies: Watching squirrels, wrestling with Chelsea, and napping.
Riley is a Rough Collie, born in May 2017 and adopted from a Collie rescue organization. He's an incredibly sweet and playful goofball who is a total couch potato. So far, we haven't found many toys that he can't destroy but we're always searching. At only five months old, he weighed 50 lbs., so we're anticipating he is going to grow into a big dog.
---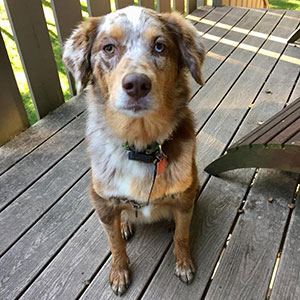 Chelsea
"Director of four-legged fun"
Hobbies: Chasing squirrels, running with her other furry friends, and birdwatching.
Chelsea is an Australian Shepherd, born in July 2014 and adopted from a local animal shelter. She is full of energy and loves to run. She isn't too keen on very loud noises and is a little cautious of strangers. She's incredibly friendly, enjoys snuggling, and loves going for walks around the campus and trails. She's named after the Chelsea Football Club, her human dad's favorite sports team. She weighs 49 lbs.
---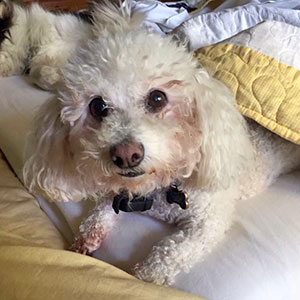 Molly
"The free-range Bichon"
Hobbies: Sleeping, eating, and sleeping some more.
Molly is a Bichon Frise, born in July 2000 and the canine matriarch of the family. She detests being bathed, groomed, or pampered and loves getting dirty. She's very sweet, loves to take naps, and doesn't have much time for or interest in the younger pets. She is very vocal about when it is time to eat, barking at the same time every day until she is fed.
---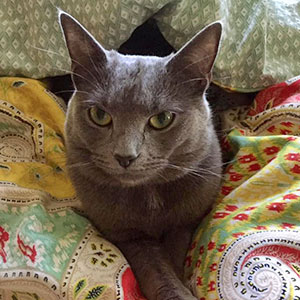 Annabel Lee
Hobbies: Hiding the reusable kcup pods, playing with rubber bands, sleeping, birdwatching, and sitting on whatever it is that you're trying to work on.
Annabel Lee is a Russian Blue/Domestic Short Hair, born in September 2015 and adopted from a local family who couldn't keep her. She's named after Edgar Allan Poe's last complete poem of the same name because she is from Baltimore, the city where Poe once lived and where he died and is buried. She is a very sweet cat and the boss of the house. However, she doesn't quite know what to think of her canine siblings.
---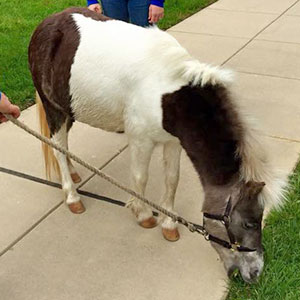 Cookie
Cookie is a miniature horse and has an official job helping to socialize the new horses at Goucher. She can be a little curmudgeonly, but loves her friends and loves to eat.
---

All the animals can be found on Facebook under "The Pets of Goucher," on Instagram under "petsofgoucher," and can be reached at petsofgoucher@gmail.com.