Monica Neel
Director of Student Counseling Center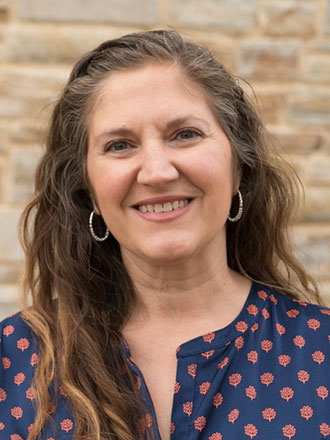 Monica Neel, Psy.D., director of Student Counseling Center, knows that emotional growth and personal well-being are important to a student's educational experience.
"Supporting personal wellness allows students to fully participate in academic life," says Neel, a licensed psychologist. "There are alternatives to psychotherapy."
Among those alternatives are a host of emotional wellness practices—from guided meditation videos to private rooms where students can stretch on yoga balls and meditate—that will be soon available when the Counseling Center relocates to Mary Fisher Hall after renovation.
"We've outgrown our current space," says Neel, who anticipates the Counseling Center's move will make services, from psychoeducational workshops to group and private counseling, more accessible to students. The new center will also have space for a library resource center, where students can access materials and find a quiet head space to unwind.
"Mary Fisher Hall is a hub," says Neel. "We'll be closer to offices where we cross-refer students and to the academic quad. We will also have more autonomy to make the Counseling Center a more student-centered space."
Ensuring the Counseling Center has sufficient space to support students' counseling needs is part of Goucher's holistic learning philosophy that supports all facets of the student experience.
"Students are proactively seeking opportunities," says Neel. "Emotional wellness is integral to this."