Cynthia Terry
Chaplain at Goucher College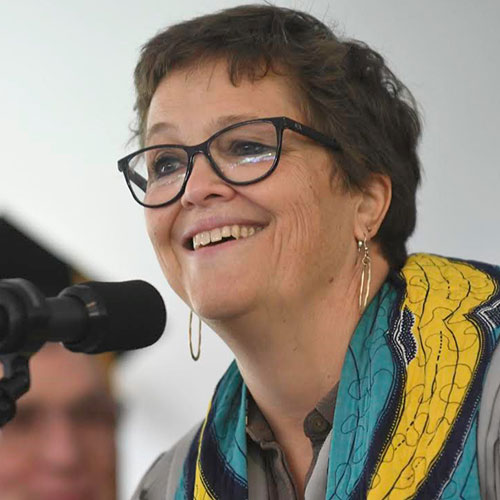 What do you love about Goucher?
I love the people of Goucher—students, staff, and faculty colleagues, alums. I have learned and grown so much during my years here, as well as witnessing the growth and learning of others. I have been challenged and encouraged and loved. I also love that in my job, I get to have conversations about things that really matter, all day every day. What a privilege and joy!
What do you do for fun?
I really enjoy working out, which still surprises me to say! I also enjoy creating things when I have the opportunity. In the past, this has included counted cross-stitch and basic knitting. At the moment, I am in the beginning stages of braiding a rag rug and taking some art classes at a local studio.
Where are you from? What's one thing about home that makes you smile?
I was raised in Arlington, VA, and went to college in Virginia as well. Before coming to Goucher, I lived in Connecticut for 16 years. And now 14 years in Baltimore. All are home in some ways. When I think of Arlington, I smile in remembering my neighborhood—close friends who played together and were in and out of each other's home all the time. When I think of Connecticut, I smile when I think of New Haven pizza—amazing! And when I think of Baltimore, I smile thinking of my sons; they were 3 and 5 when we moved here and are now 17 and 19.
What's something that makes you laugh?
Laughter. I love puns and the humor that slips out during meetings. I really enjoy the Amazon Prime Show, "The Marvelous Mrs. Maisel." That definitely makes me laugh.