Cass Freedland
France-Merrick Director of Community-Based Learning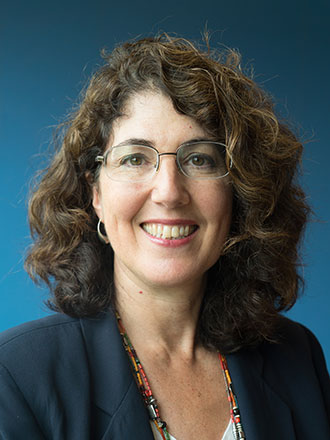 Cass Freedland, Ph.D., knows that when it comes to community service, good intentions can only go so far.
"Volunteerism doesn't get to the root of issues," says Freedland, the France-Merrick Director of Community-Based Learning. "Our students learn to think about the structures. We want them to push past the 'charity lens.'"
Goucher's Community-Based Learning Program, which receives some of its funding from the Greater Goucher Fund, provides students with the opportunity to actively connect their academic work with direct experience in the community through a network of up to 60 partnerships in 10 subject areas.
As an innovative way to teach liberal arts, community-based learning provides faculty with the chance to construct courses that integrate community engagement into areas ranging from art to psychology and data analytics.
"We look at community-based learning as a textbook; it's one of the ways of deepening learning in the classroom," says Freedland. Community-based learning courses are complemented by trips, fieldwork, and community building events.
Each year more than 1,000 students participate in community-based learning, totaling more than 30,000 hours.
Learning beyond the classroom means that students collaborate with other community engagement professionals to work on projects such as the Refugee Youth Project at Patterson High School and Earl's Place traditional housing, both in Baltimore. Some of Goucher's school-based programs have been ongoing for more than 20 years.
A prime reason the Community-Based Learning Program at Goucher has been so successful is that it doesn't try to impose itself on its partners, says Freedland.
"We listen to our partners," says Freedland. "We ask our students: What does it mean for students to walk into a community that's not their own?"
Sensitizing students also means teaching them to ask questions and to understand that change doesn't happen overnight. "We are supporting work that community members have been doing for years," says Freedland.
"Goucher students are much more than just an extra set of hands," says Freedland. "They understand what the partners need. They love it."