Sciences, Health, Environment, & Research (SHER)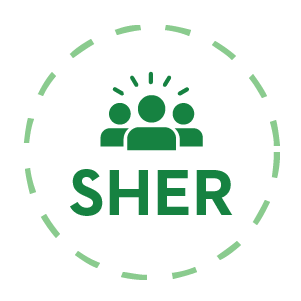 Sciences, Health, Environment & Research
Ask Yourself...
Do you enjoy gathering and evaluating scientific evidence?
Do you have an interest in working in the life sciences with people or other organisms?
Do you want to provide advice on proper health or environmental standards and regulations?
Do you want to use scientific and research skills to overcome the challenges of the future?
Do you want to solve a problem or design new products using science?
If you answered yes to any of these questions...
Consider Joining SHER!
The SHER community consists of people who are interested in or work in the science, health, environment, and research industries. Find your professional "home" in SHER to explore industry-specific opportunities and connect with people who share your career interests.
Career interests include (but are not limited to) exploring and understanding the world by conducting and analyzing scientific research, providing health care services, consulting with companies or governmental agencies to protect the environment, and shaping scientific advancements.
Data analysis & numerical skills 
Ability to understand and apply scientific rules and methods 
Knowledge of plant and animal organisms, their tissues, cells, functions, interdependencies, and interactions with each other and the environment. 
Maintaining accurate laboratory records and data 
Knowledge and prediction of physical properties and laws 
Proficiency with analytical or scientific software 
Desire to collaborate on research activities 
Collection, synthesis, analysis, and reporting of scientific or health data 
Explore Career Paths in SHER 
O*Net Online - This free online database contains hundreds of occupational definitions to help students, job seekers, businesses and workforce development professionals to understand today's world of work in the United States.
What Can I Do With This Major? - Learn how majors span multiple industries and the various areas you can apply your major within
RESOURCES SPECIFIC TO CAREERS IN THIS COMMUNITY
Goucher Student Organizations 
Biology & Chemistry Club 
Chemistry Club 
Mathematics & Computer Science Club (MaCS) 
Physics and Astronomy Club 
Student Health Advisory Committee (SHAC) 
Alumni Spotlight

Sam Glickstein '12

Sam Glickstein '12
---
"Some people like to go their own way. Some of these people might be building an animal feed startup, while others might use genetic engineering to create insects with higher protein content. Sometimes, these are even the same person. Meet Sam Glickstein '12."
Read My Story
Professional Associations
*This is not meant to be a comprehensive list and only includes some of the many professional associations in each industry.
Professional associations unite people in the same profession/occupation. They provide opportunities for members to engage in professional development and advance in their careers. Benefits include networking with other professionals, access to conferences/workshops, and trainings/certifications within the field.