Community, Social Services, & Education (CoSE)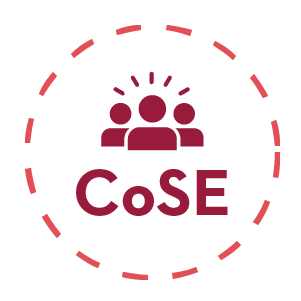 Community, Social Service & Education
Ask Yourself...
Do you enjoy teaching, instructing, counseling, and/or listening?
Do you like to research, write about, or study human behavior?
Do you want to organize your local communities to support a shared cause?
Do you want to help people become the best versions of themselves?
Do you want to promote equity through direct service?
If you answered yes to any of these questions...
Consider Joining CoSE!
The CoSE community consists of people who are interested in or work in the community, social service, and education industries. Find your professional "home" in CoSE to explore industry-specific opportunities and connect with people who share your career interests.
Career interests include (but are not limited to) teaching, providing mental health services, building community programs, supporting marginalized or underserved populations, researching and writing about human behavior, and increasing access to community resources.
Alumni Spotlight

Sabrina Jiminez '17

Sabrina Jiminez '17
---
"Goucher psychology courses made me reflect upon and question the intersection of psychology and society in ways I didn't in other courses and that I haven't in graduate school."
Read My Story
Professional Associations
*This is not meant to be a comprehensive list and only includes some of the many professional associations in each industry.
Professional associations unite people in the same profession/occupation. They provide opportunities for members to engage in professional development and advance in their careers. Benefits include networking with other professionals, access to conferences/workshops, and trainings/certifications within the field.