Profile of Tiffanee Charles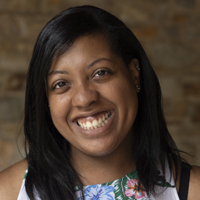 Tiffanee Charles
Admissions Counselor
Phone: 410-337-6233
Email: tiffanee.charles@goucher.edu
Tiffanee has been a member of the Goucher admissions team since 2019. Her first day was actually on Gopher Day, a fun event for accepted students to get to know Goucher's campus better. Her favorite aspect of working with prospective students is hearing about their unique combinations of majors they want to pursue and how they plan to make the most out of their college experience.
Hometown: Roosevelt, NY
High School: Kellenberg Memorial High School
Education: Towson University, B.S in Early Childhood Education, M.S.Ed in Higher Education Leadership & Policy Studies
Why Goucher? Goucher has an amazing community and everyone wants to see students thrive from your friends to the professors that you've connected with to the staff members who may have assisted you along the way. It's very common for those that you pass on your way to class to wave and say hello. Goucher truly is a tight-knit community.
Favorite College Memory: Being a Resident Assistant my Junior year! I met so many wonderful residents whom I still speak to some today, developed a strong bond with other RAs, and learned a lot about myself in the process. I gained leadership experience that I carried with me after I graduated. I highly recommend applying to be a RA as it's a great experience for growth in many ways.
Favorite Spot on Campus: The Mary Fisher Dining Center! The food on campus is really good, there are so many options, and each time I visit I typically bump into someone that I can strike a conversation with!
When visiting Goucher, I recommend: Ask questions and really listen to what student ambassadors and current students share with you. After all they have the true Goucher experience and are student themselves so that will give you a great idea if you can envision yourself on campus and as a part of our community.