Profile of Shawn Carr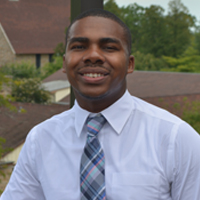 Shawn Carr
Assistant Director of Admissions for the West Coast
Phone: 410-337-6196
Email: shawn.carr@goucher.edu
Shawn has been a member of the Goucher Admissions team since 2016. His favorite aspect of working with prospective students is knowing that I have the opportunity to impact someone's life in a positive way.
Hometown: Camden, NJ
High School: Camden High School
Education: Coppin State University, B.S. Psychology; Bowie State University, M.A. Organizational Communications
Why Goucher? Goucher is a place where students can receive a good education with a strong focus on global perspectives. The location allows students to take advantage of the many opportunities for jobs and internships in the Baltimore/Washington D.C. area. In my personal opinion, students at Goucher make up the pieces of the puzzle that come together to create an amazing learning environment. So I say to the prospective student, your values, perspectives, and energy are much-needed!
Favorite College Memory: Developing a mentoring program for incoming freshmen males would definitely be my favorite memory while in college. The freshmen males had a much easier transition in terms of navigating through different obstacles while still striving to balance academics with a social life. It was such a rewarding feeling to hear that those freshmen eventually graduated and were able to help others that came behind them.
Favorite Spot on Campus: Stimson Dining Hall. First and foremost, the food is absolutely delicious! Stimpson is a great common area where students can meet up and congregate while eating. In addition, the dining hall staff team always serves students food with a smile on their face.
When visiting Goucher, I recommend: That you do not hesitate to speak to students, faculty and staff on campus. Everyone here at Goucher is very welcoming and loves to share information about the wonderful Goucher experience.