Profile of Melissa Egerton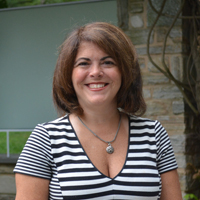 Melissa Egerton
Assistant Director of Admissions for Transfer Recruitment
Phone: 410-337-3057
Email: melissa.egerton@goucher.edu
Melissa has been a member of the Goucher admissions team since 2016. Her favorite aspect of working with prospective students is understanding the story behind what lead them to choose Goucher. I'm impressed with how well students articulate their passion for wanting to attend a small school where they can contribute in meaningful ways.
Hometown: Norwich, New York
High School: Oakland Mills High School
Education: John Carroll University, B.A. Sociology, Towson University, M.S. Health Science, expected Fall 2016
Why Goucher? For being a supportive community that embraces your individuality and challenges you to leave your comfort zone and experience new things. Goucher staff, faculty and administrators recognize the importance of supporting the holistic needs of students and responding proactively instead of reactively. Because of the small campus size, faculty and staff are very accessible and they have a genuine concern for getting to know your interests and areas of strengths and challenges. They will provide you with the tools necessary to become a confident life-long learner in a global 21st-century economy.
Favorite College Memory: Creating lifelong friendships. My college roommate was my Maid of Honor at my wedding and we remain close today.
Favorite Spot on Campus: Academic Center for Excellence. It is very peaceful and they not only support your academic success but also your emotional and psychological development.
When visiting Goucher, I recommend: Get to know early on whether or not a college is a best "fit" for your academic and social interests. I transferred from Marymount University to John Carroll University after my freshman year in college. I realized the college did not provide the college "experience" I was looking for. When touring the campus make sure you get a feel for the campus culture and ways to become involved. Talk with your tour guide and the other students you come across on your pathway. Familiarize yourself with the campus resources and support services. There's plenty of documented research that links student retention and graduation rates to how strongly a student feels a sense of belonging to their campus community and the personal interactions they cultivate with faculty, staff and other students.