Profile of Maia Miller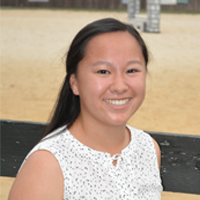 Maia Miller '16
Admissions Counselor
Phone: 410-337-6467
Email: maia.miller@goucher.edu
Maia has been a member of the Goucher admissions team since 2016. Her favorite aspect of working with prospective students is meeting prospective students and their families.
Hometown: Seattle, WA
High School: Roosevelt High School
Education: Goucher College, B.A. in Business Management with a minor in Psychology
Why Goucher? I am a proud alumna, and love the welcoming, inclusive and diverse community at Goucher.
Favorite College Memory: Studying abroad in Peru on a Goucher Intensive Course Abroad (ICA). While there we had to make the long steep hike all the way up to Machu Picchu as the buses weren't operating.
Favorite Spot on Campus: The equestrian center!
When visiting Goucher, I recommend: Asking your tour guide and students you meet about their college experience. Find out why they chose Goucher and what they are involved with on-campus as Goucher students have many interests.