Profile of Kim Donoghue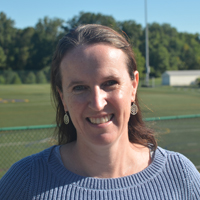 Kim Donoghue '97
Admissions Counselor
Phone: 410-337-6106
Email: kim.donoghue@goucher.edu
Kim has been a member of the Goucher admissions team since 2001. Her favorite aspect of working with prospective students is meeting prospective students and their families and assisting them with the college search process.
Hometown: Havertown, PA
High School: Haverford Senior High School
Education: Goucher College, B.A. in Communication with a minor in English
Why Goucher? I love the sense of community at Goucher and am a proud alumnae of the college.
Favorite College Memory: I played field hockey and lacrosse, and our lacrosse team was the first Goucher team to reach the 'Final Four'. Many of my teammates remain my closest friends.
Favorite Spot on Campus: Can I pick two? 1) The hill overlooking Beldon Field and Gopher Stadium is a great place to watch athletic events, and go sledding in the winter. 2)The meadow outside of the Athenaeum
When visiting Goucher, I recommend: Have a meal on campus. The number of dining options is amazing!