Profile of Joseph Shields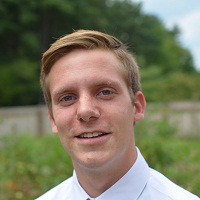 Joseph Shields
Admissions Counselor
Phone: 410-337-6018
Email: joseph.shields@goucher.edu
Joseph has been a member of the Goucher admissions team since 2015. His favorite aspect of working with prospective students is hearing about their interests and how they want to be involved in college.
Hometown: Madbury, NH
High School: Oyster River High School
Education: Loyola University Maryland, B.S. in Business Administration
Why Goucher? In addition to the personal attention and opportunity students receive here, Goucher is a community that encourages students to put themselves in new situations and stretch themselves. It's a college that allows students to step out of their comfort zones while being supported by the faculty and their peers.
Favorite College Memory: Studying abroad for a semester in Rome was an incredible experience. I lived with a host family that did not speak English, and going about life strictly in Italian was a lot of fun, if not at times challenging. I gained a great deal of confidence in my abilities after all the experiences I had throughout Italy.
Favorite Spot on Campus: The Organic Garden. I am very impressed with how Goucher genuinely cares about their environmental impact, and was going green before it was a buzz word. Students here clearly share that priority, and the on-campus garden is a nice reminder of that.
When visiting Goucher, I recommend: Keep in mind that Goucher is not only a school, but a home as well. Ask your tour guide and students on campus what they enjoy doing on campus, how they are involved in the community, and what they do on the weekends.