Profile of Brandi Ferrebee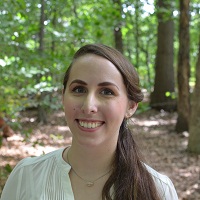 Brandi Ferrebee
Admissions Counselor
Phone: 410-337-6501
Email: brandi.ferrebee@goucher.edu
Brandi has been a member of the Goucher admissions team since 2014. Her favorite aspect of working with prospective students is demystifying the college application process.
Hometown: Frederick County, Virginia
High School: James Wood High School
Education: Oberlin College, B.A. in English
Why Goucher? For one, Goucher takes a broad liberal arts education and offers students ways to immediately apply it: in their lives, on campus, in the Baltimore area, and internationally. The Goucher community cares immensely about learning, contributing to the world in a thoughtful way, and being kind. Goucher really gives students plenty of room to explore widely and deeply, no matter what your passion (or passions!) may be.
Favorite College Memory: Learning how to swing dance! It was the first time I really had a chance to take a dance class, and luckily, I chose a type of dancing that allows me to look really goofy, meet fascinating people, and gives me an excuse to learn more about music, history, and movement. As the advisor to the Goucher Swing Dance Club, I now sometimes even get to spread my enthusiasm to a new generation of swing dancers.
Favorite Spot on Campus: The trails in the Goucher woods. I love getting to see all the wildlife and plants which we share the campus with, and it really is impressive how large the woods are for being in Towson and just outside Baltimore.
When visiting Goucher, I recommend: Do yourself a favor and try the food! The company we work with (Bon Appétit) is impressive not only for how delicious the food is, but also because the from-scratch food is responsibly and sustainably sourced. Some of the food is so local that it comes from a garden on campus! Princeton Review regularly ranks us in the top 20 of their "Best Campus Food" list. Students particularly love Heubeck's stir fry, and I get through reading season with cookies from Alice's Restaurant. (Yes, it's really called that! No relation.)