Program Timeline & Mission
We provide students with mastery in building applications within social and cultural frameworks to address complex environmental questions and issues.
Timeline
Though you will have five years to complete all the degree requirements, most students will do it in two years. Each year you have the opportunity to participate in two nine-day residencies at Goucher where you will work intensively with faculty and peers and learn from site visits and guest speakers. Here is a sample program timeline and an average timeframe for completing the program. The number of credits you take each semester will determine how long it will take to complete the program.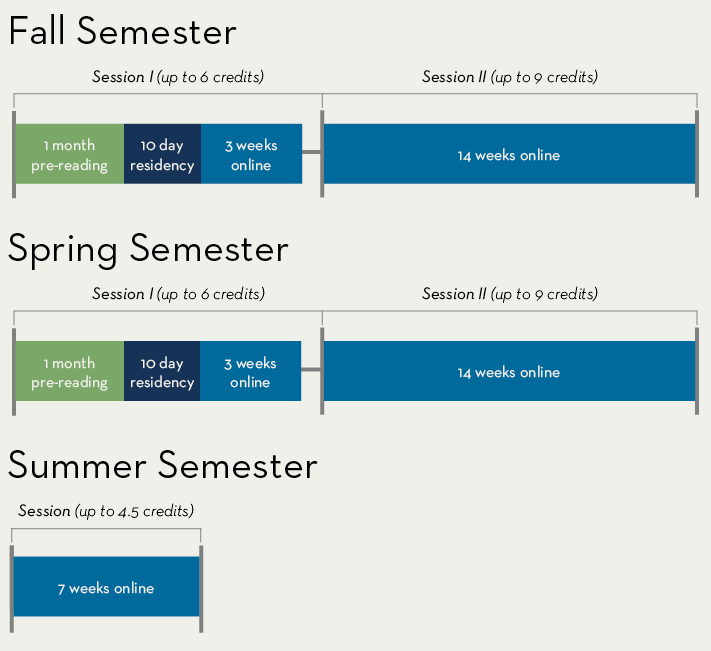 For specific dates, please download our academic calendar.
Mission
The mission of the MAES program is to develop leaders prepared to collaborate across disciplines to address the complex human and social aspects of environmental challenges, creating the foundation to realize a healthy planet and healthy communities now and for generations to come.

The educational objectives to fulfill this mission are broad-based, including understanding the social, historic and economic contexts of environmental issues. Graduates will also gain an understanding of professional and ethical responsibility. They will be expected to demonstrate knowledge of contemporary issues and theories, and the ability to apply this knowledge. Graduates of the MAES program will be able to do the following:
Conduct human-dimensions research, write research proposals and analyze technical reports.
Evaluate environmental issues and interventions based on social, technical and economic criteria.
Develop a critical understanding of the ethical issues involved in working with communities.
Frame environmental issues and facilitate dialogue with multiple stakeholders and communities.
Develop and implement community programs, partnerships and public-participation initiatives.
Develop management skills needed for making effective decisions and taking on leadership roles.